Free Fitness Classes in London
With these 15 free fitness sessions, you just bring the calories and the determination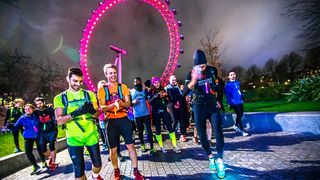 (Image credit: Unknown)
It seems every week a new boutique fitness studio is launched in the capital, offering the latest high-tech fitness equipment, vegan smoothie bars and numerous Instagram opportunities. But if your budget doesn't stretch to luxury gym membership and you're not too fussed about disco lighting and eucalyptus-scented towels, there's no need to splash out. There are plenty of free fitness options in London where you can get your sweat on for nada.
1. London Midnight Runners
Loud, bright and loads of fun, twice-a-week Midnight Runners terrify the tourists by running a guided 10km through the streets and parks of London, music blasting from speakers as they pass. Every couple of kilometres there's a stop for boot camp exercises including piggybacks and wheelbarrows, meaning you get to know your fellow runners quickly (and intimately). As for the midnight bit, once a month there's a late-night run – usually with a theme such as 007, hip-hop or glitter – followed by an after-party. St Paul's, Hyde Park/Regent's Park, Tuesday 7.30pm, Sunday 11am, midnightrunners.co
2. Speedo Dive In
Despite swimming being the highest participation sport in the UK, only one in three of us can manage more than 100 metres without descending into a floundering swirl of splash and bubbles. If you're more of a doggy-paddler than a Michael Phelps, these 60-minute adult swim-fit sessions, held in various pools around London, are designed to help you learn skills and techniques to get you front crawling with confidence. Various locations, May-October 2016, speedo.co.uk/dive-in
RECOMMENDED: Benefits of Swimming
3. Lululemon Athletica yoga
Get your stretch on at Lululemon stores every Sunday, with yoga led by some of London's most respected instructors. The activewear brand's classes are first come, first mat, so turn up early to ensure your place. On Saturdays until 23 July you can take your practice outdoors with lululemon yoga classes in Hyde Park. You'll need to book, but they're still going to cost you zero pence. Lululemon Athletica boutiques in Covent Garden, Marylebone, King's Road, Westfield, Richmond, multiple classes each week, bit.ly/lululemonathleticayoga
4. Our Parks
Our Parks, run in partnership with councils and local authorities, brings free, instructor-led exercise sessions to local London communities. Held in green spaces, including the Queen Elizabeth Olympic Park, there's Box Fit, boot camps, circuits, yoga, capoeira, athletics-based fitness sessions and loads more. Various times and locations, registration and booking required, ourparks.org.uk
RECOMMENDED: Outdoor Fitness Classes in London
5. Never Stop London
Every Tuesday, The North Face's free exercise community, Never Stop London, brings the great outdoors to the heart of the city with its Mountain Athletics, an hour-long boot camp-style class with exercises designed to benefit trail-runners, climbers, skiers, hikers… anyone who likes a bit of outdoor adventure basically. Once a month, there's also a free excursion to the countryside for a spot of trail-running, geocaching and overnight hiking. The North Face store, Regent St, every Tuesday 6.15pm, and monthly weekend excursions, booking required, bit.ly/neverstoplondon
6. Project Awesome
For those who like their exercise with a generous serving of feel-good, Project Awesome may just be London's happiest workout – expect whooping, high-fiving, hugging and other un-English behaviour. Sessions take place at The Scoop on Wednesdays and Primrose Hill on Friday, while Monday is #FlashFitness, with the secret location (anywhere from a skate park to a tube station or a tunnel) announced on social media the week before. All abilities are welcome and workouts involve running up and down hills or sets of steps, burpeeing, crawling and press-upping your way round London. Dragging yourself out of bed for the pre-work start may be tough but you'll have a satisfying feeling knowing you were hitting it hard while your colleagues were hitting snooze. The Scoop Tower Bridge, Primrose Hill and other locations, Monday, Wednesday, Friday 6.30pm, projectawesomelondon.com
7. Cycle Skills Training
You might have aced your cycling proficiency in primary school, but taking to the capital's streets on two wheels is a different ball game. If you're nervous about navigating roundabouts and unsure how the chuff to turn right across three lanes of traffic, TFL provides free Cycle Skills Training for adults in all boroughs. There are Basic, Urban and Advanced classes so you can build confidence and master cycling safely in the city, and Family Skills classes are available for those with kids in tow. Various times and locations across London, bit.ly/cycleskillslondon
8. AdventRunning
AdventRunning started as a means of inspiring people to get off their backsides and run every day in December, hence the name, but now it's a year-round schedule of friendly runs open to everyone. There's a pre-work Bagel Run on Fridays – meet at Brick Lane for a 10km by the Thames; long, slow runs of 10-13 miles on Sundays; and a track session on Tuesdays – you'll need to pay the £3.30 entry to Mile End track for the latter but all your coaching is free. Various locations in east London, Tuesdays 7pm, Fridays 6.45am, Sundays 11am, ar-endurancesports.com
RECOMMENDED: 10K Training Plan
9. Nike+ Run Club (NRC)
Whatever level of runner you are, NRC's got you covered. The sportswear giant's free sessions – lasting from 45-90 minutes – include those designed for complete beginners, social runs from 5-10km, speed sessions working on pace with intervals and hill repeats, and sessions that mix running and high-intensity training to build strength. Niketown London, Covent Garden, Westfield London, Westfield Stratford, various times, bit.ly/nikerunclubevents
RECOMMENDED: Running Events
10. Free guided walking tours of London
OK, so free may be a bit of a misnomer here. Free Tours by Foot and Free Tours of London host guided walking tours, which actually run on a "pay what you think it's worth" basis. If you have the bottle to go along and give them nowt, fair enough, but regardless, these walks are a great way to ramp up the step count on your fitness tracker while learning all about our fair city. There are a number of tours available including Jack the Ripper, Soho and London Graffiti and Street Art. Various times and locations, freetoursoflondon.com, freetoursbyfoot.com/london-tours
11. Reebok FitHub
Over at King's Road FitHub you'll find between two and four sessions a week run on a changing six-weekly cycle. The latest classes are being confirmed at the moment but previous sessions have included circuits, run clubs, yoga, CrossFit workouts and even hula classes. Covent Garden has a free class every Tuesday evening at 8pm. Until 5 July it's a Hardcore class – high-intensity cardio training with a focus on abs. Various days and times, Reebok FitHub Covent Garden, 020 7836 3878; Reebok FitHub King's Road, 020 7259 0708.
12. LondonSkate
The free group skates are held weekly throughout the summer and take in a two-hour tour of the city with routes changing regularly. Experienced skaters are there to marshal and a purpose-built sound system supplies the party vibe. LondonSkate is best suited to intermediate or experienced skaters but if you're still a bit wobbly, there's an Easy Saturday Skate in Battersea Park and a Sunday Stroll in Hyde Park to build up your skills, both also free. Hyde Park, Wednesday 7.45pm, visit londonskate.com for routes and meeting points.
RECOMMENDED: Fun Activities in London
13. Sweatshop Running Community (SRC)
Visit your local Sweatshop, a no-frills running club open to all levels, and join in with one of their regular group runs. Nearly every store has a 5km run suitable for beginners with many offering longer distances too. There are run leaders and back markers so no one gets left behind, and if you need an extra incentive to swerve the sunny beer garden, you also earn rewards for attendance. Five runs and you get a free SRC technical T-shirt; conquer a 50-week running streak and you're in line for a new pair of running shoes. Sweatshop stores across London, bit.ly/runhubsweatshop
14. Great British Tennis Weekend
If Wimbledon has inspired you to dust off the tennis whites, try one of the free sessions on offer over Tennis Weekend. Tennis clubs across the country are opening their doors with taster coaching sessions, free court use and something called Cardio Tennis – a group fitness class held on court with music, ball hitting and cardio exercise thrown in. Racquets and balls are provided and, if you've got children, there are plenty of family activities going down too. Various locations, 16-17 July, clubspark.lta.org.uk/OpenDays
15. British Military Fitness (BMF)
Possibly the best-known group exercise session out there, although it's probably less well known that your first BMF session is totally gratis with no obligation to sign up. Simply find a park near you that offers sessions which shouldn't be hard as there are around 30 different venues in London – and register for your free hour of burpees, sprints, partner exercises and getting yelled at (in a friendly way) by ex-military trainers. Various times and locations, britmilfit.com
Sign up for workout ideas, training advice, reviews of the latest gear and more.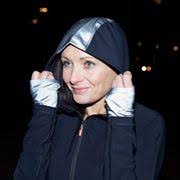 Charlotte Thomas is a freelance journalist and health and fitness blogger at Lunges & Lycra.