What Is SWOLF And How Can It Make You A Better Swimmer?
Add some stats to your swimming to become more efficient in the water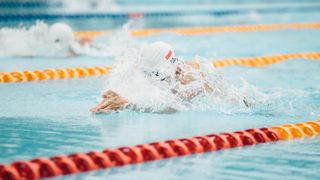 (Image credit: Unknown)
The technology available to amateur runners and cyclists nowadays is pretty incredible. Using any number of free cycling or running apps you can spend hours analysing your activities, drilling down into details on splits, cadence, power, heart rate and more.
Swimmers can be forgiven for being jealous of landlubber athletes, because there aren't as many tech products that can hack it in the water. There are, however, the best swimming watches offer the tech-savvy swimmer a fix, and one of the key swim-specific metrics on these trackers is your SWOLF score.
For more info on what SWOLF is and how you can use it to improve your swimming, we spoke to Dan Bullock, swimming coach and founder of Swim For Tri.
What is SWOLF?
SWOLF is the combination of your stroke count and time taken in the water and is often used as a measure of your swimming efficiency.
"Swimmers have been adding these two numbers together for years and thinking of it as 'Swim Golf' or SWOLF, because lowering the score is the objective," says Bullock. "In general you swim 25-50m, so one or two lengths, and count the strokes and the time taken."
Why is it important?
The basic idea of SWOLF is that the fewer strokes and less time you take, the more efficient your are in the water.
"If you are swimming on your own without a coach or group and want some kind of personal evaluation then SWOLF can help," explains Bullock. "Swimming faster will improve your SWOLF but, equally, swimming with better technique can lower your stroke count and improve your score."
SWOLF is better than simply counting strokes because you can lower the amount of strokes taken by gliding along in the water. This slows you down, something the SWOLF score will indicate.
"As your swimming technique improves you should get faster," says Bullock. "The two go hand in hand. However, you can also lower your stroke count by swimming slowly or gliding excessively, so you're not actually swimming faster. It's when you add a time factor that SWOLF can be of use."
What is a good score?
It's tricky to compare SWOLF scores with other swimmers because individuals have different physical attributes. It's better to focus on improving by bringing your own score down.
"Meaningful comparisons with others aren't easy," says Bullock. "Because we are all different heights and have different limb lengths, we have differing stroke mechanics.
"An initial objective I suggest for many of my adult improvers is to focus on travelling 1m with each stroke – it's an easier way to get started with swimming stats. Adding time then creates a new variable to play with."
Bearing in the mind the caveats regarding size and limb length (and indeed accuracy issues with swimming trackers) an amateur swimmer managing a SWOLF score of 35-45 over 25m is likely to be in great shape. If you are looking for a SWOLF score to marvel at, legendary Russian sprinter Alexander Popov is said to hold the unofficial world record, as Bullock explains: "Rumour has it the Olympic champion Alex Popov managed 25 seconds at 20 strokes for a score of 45 in a 50m pool!"
How do you track your SWOLF score?
You can count your stroke in your head and use a stopwatch or clock in the pool for time, but dedicated swimming trackers are now capable of calculating your SWOLF score.
"Many fitness watches now incorporate some kind of swim measurements, tracking or metrics," says Bullock.
"Some pure swim watches will offer distance and lengths swum, time and distance in the water, and strokes taken so they can calculate SWOLF or what they call swim efficiency."
However, swimming trackers are notorious for accuracy issues and it's important to set them up before you start your session, especially if you're not swimming in a standard length pool.
"The watches incorporate an accelerometer which measures change in speed off each wall so it is important to set them up correctly to track the right pool length," says Bullock.
"Many watches seem to get easily confused and while many users swear by them, I hear of just as many who are frustrated by them. I asked one of my swimmers recently how many lengths of his warm-up had he done. He tapped his watch for help and announced 375m. I asked why he wasn't at the other end of the pool."
Sign up for workout ideas, training advice, reviews of the latest gear and more.