Suffering Through Barry's Bootcamp Hellweek
Coach spends five days at Barry's Bootcamp, we finished leaner, fitter and ready for a rest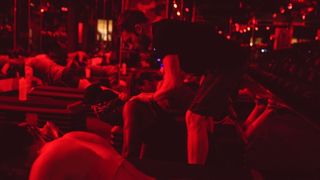 (Image credit: Unknown)
Barry's Bootcamp is a staple of the London fitness scene, with their energetic classes renowned for their intensity. The sessions are split between treadmills and floor work, with the latter focused on resistance exercises. Each day has a different focus, so in theory you can do them all, as people do in Barry's Hellweek. Hellweek is only offered in those months with five Mondays and participants take seven days straight of classes. Coach didn't quite fancy the full seven, so instead opted for a working week
of hell.
Monday: Arms & Abs
THIS WAS A MISTAKE. Many fitness classes claim to be an hour, but after warming up and down, that falls to 45 minutes of real action. Barry's is a full hour at max intensity. It's like transitioning from Breaking Bad to Game Of Thrones; you really notice the extra 15 minutes. Today was Arms and Abs. You might think they're not related, up until you try and hold a never-ending V-sit while doing bicep curls.
Tuesday: Butt & Legs
Things were a bit easier today, mainly because Coach knew what to expect. That said, there were still plenty of sprints, and attempting sideways squats on a moving treadmill was a real co-ordination challenge at 8.40am. Every kind of squat was involved in the floor sections – luckily the biceps, still quivering from yesterday, were rarely involved.
Wednesday: Chest, Back & Abs
Day three, and a routine has developed. Wake up, experience dread, do class, feel surprisingly good. Aside from the biceps, the body is coping reasonably well. Today's treadmill activities included putting it on "Dynamic Mode", which means powering it yourself, which is tough.
Thursday: Abs
Abs day. The day of reckoning. Coach managed about half the floor exercises, with the abs focus proving too punishing on many occasions. On the plus side, four days in you really know your limits on the treadmill sprints, so you can push even harder. Is that a plus? The other good thing is that you start to recognise the odd familiar face, and the social side of Barry's is clearer.
Friday: Full Body
So we come to the end. Abs aflame, legs furious, and biceps still sore from Monday, Coach was not in a positive frame of mind walking into the class. Luckily, the absurd energy levels at Barry's carried the day, and the final hour flew by. Full Body had a suspiciously high amount of abs work, but did cover most muscles at some point. Coach finished the week leaner, fitter and ready for a rest.
One class £20, weekly membership £95, Hellweek £85 (next starts August 29), barrysbootcamp.com
Sign up for workout ideas, training advice, reviews of the latest gear and more.