The Biggest Fans Of Gym Selfies Are Apparently Middle-Aged Men In Manchester
A look at 130,000 posts in December revealed men are almost twice as likely as women to post a #gymselfie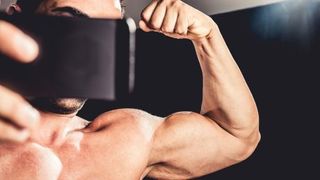 (Image credit: unknown)
You might think that there's a certain kind of person who takes gym selfies – and you'd be right… but it might not be the kind of person you thought.
Gym chain PureGym looked at social media posts in December and found 130,000 on Twitter and Instagram marked with the hashtag #gymselfie. Around 60% of these were posted by men and, perhaps surprisingly, over 70% were from people aged over 35.
If you suspected younger gym-goers were addicted to the habit, think again. Those in the 16-24 age bracket were among the least likely people to share gym selfies (or at least use the hashtag – there's a chance they are going selfie crazy under the radar).
When it comes to cities, Manchester and Cardiff were the most likely to share a selfie. Adjusted for population, Mancunians were twice as likely to post a selfie than any other UK city.
RECOMMENDED: Gym Etiquette
We at Coach have a "live and let live" attitude to gym selfies. If you're proud of your workout, then by all means tell the world. However, over the past year and a half, we've asked many celebrities their thoughts on the matter, and they've not always been quite so positive.
Here are a few choice quotes on the practice.
"I'd never post a picture of me in the gym. The most annoying ones though, are the people that post pictures of picturesque runs. "I saw this on my beautiful morning run!" Fuck those guys…" – Musician Newton Faulkner
"I Snapchat [TimWestwoodTV] all the time. Selfies are cool man, I mean if you've done the work, you should be proud of it. It's an achievement. I respect people who put the work in." – DJ Tim Westwood
"No, I wouldn't do it. People that do it are idiots. I regularly say that everyone that does that is a stupid person – who cares?" – Actor and writer Rhys Thomas
"I did take my first ever gym selfie the other day, and I was actually quietly smug about it. It took me like 25 goes and a few filters here and there, but when I posted the results, I thought, 'All things considered, that's not bad!' It was a Monday motivation thing – I didn't want to go to the gym, but you just need to suck it up and go. I had a lot of people saying 'I'm going to do it now', which was great." – TV and radio host Dave Berry
"I don't really go to the gym, it's running outdoors and swimming that I do. It's very difficult to take a selfie when you're swimming, but I have taken a few running selfies – I'm always amazed at how weird and awful my face can look, so I've done it now and again, mainly of me going for a run and just looking desperately out of breath…" – Comedian Joe Lycett
"Never, I haven't, and I sort of loathe people that do. The last place I would do it is in the gym, because I'm red in the face and wearing some tight, not especially flattering clobber." – Presenter Rick Edwards
Sign up for workout ideas, training advice, reviews of the latest gear and more.