Taking The Stairs Really Can Make A Difference
How to improve your cardiorespiratory fitness on your daily commute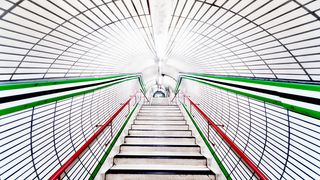 (Image credit: Unknown)
Using the stairs rather than the lift is at the top of every list of simple tips to boost your fitness – but as with all such quick-fix advice, it's perhaps been easy to assume that any health benefits would be so small as to make no real difference by themselves.
Well, you know what they say about assumption. Taking the stairs has been given a huge vote of confidence by a new study that found that short bursts of high-intensity stair-climbing can make a significant difference to your cardiorespiratory fitness (the health of your heart and your lungs).
Researchers from McMaster University in Canada recruited 31 sedentary (but otherwise healthy) subjects and put them through two different stair-based high-intensity exercise regimes, each of which lasted six weeks. Both of these required just three ten-minute workouts a week, with that time including warm-up, warm-down and recovery periods.
The first exercise plan involved three 20-second bursts of "all-out" climbing, while the second involved 60 seconds of vigorous climbing up and down one set of stairs. Both types of stair-based HIIT workouts were found to increase cardiorespiratory fitness, which is linked to overall longevity.
Ten minutes of exercise, three times a week – why wouldn't you want to get in on that action? Especially since – unless you live in a bungalow and work in a building with only one storey – most of us have all the access to stairs we could ever need.
Home and workplace no help? Take a leaf out of Rocky's training manual and find some public steps. If you're a Londoner, for example, there are plenty of staircases ripe for sprinting up on the Underground. If you really want to challenge yourself, these are the five hardest climbs to tackle on the Tube.
The 5 Toughest Staircases On The London Underground
1. Hampstead: 320 steps
Calories burned: 48
Coach's best time: 1min 39sec
2. Covent Garden: 193 steps
Calories burned: 29
Coach's best time: 54sec
3. Belsize Park: 189 steps
Calories burned: 28
Coach's best time: 51sec
4. Russell Square: 171 steps
Calories burned: 26
Coach's best time: 47sec
5. Goodge Street: 136 steps
Calories burned climbing them: 20
Coach's best time: 43sec ("At the top there's a long, disheartening corridor just before the finish")
Sign up for workout ideas, training advice, reviews of the latest gear and more.