One Hour Of Exercise A Week Can Reduce The Risk Of Depression
New research suggests exercise could prevent 12% of cases of depression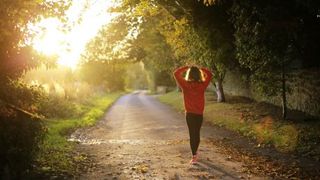 (Image credit: unknown)
Exercising for just an hour a week, regardless of the intensity, can help prevent depression, according to new research on 33,908 people who were tracked for 11 years.
The study – led by scientists from the Black Dog Institute, which conducts research into mental health issues – concluded that around 12% of cases of depression could have been prevented if the participants had done one hour of exercise a week.
It was also found that participants who did not do any sort of physical exercise were 44% more likely to develop depression than those who did one to two hours of exercise a week.
"We are still trying to determine exactly why exercise can have this protective effect, but we believe it is from the combined impact of the various physical and social benefits of physical activity," said study lead Professor Samuel Harvey of the Black Dog Institute.
Previous research has suggested that exercise can help in treating the symptoms of mild depression, with the evidence strong enough, and the potential downsides of exercise so minimal, that many GPs prescribe physical activity as a treatment.
Any sort of exercise can have an effect – for example, a small German study conducted earlier this year found that bouldering could reduce a depression sufferer's symptoms from moderate to mild. Many runners also say that one reason they stick with the sport is the mental health benefits it provides.
RECOMMENDED: "I Worry Less Now, Because I Run More"
Despite these positive findings it's important to note that depression is a varied condition and what works for one person could have the opposite effect in another. The study also only found that 12% of cases could be prevented by regular exercise – it's far from a cure-all.
That said, it's always worth highlighting the potential mental health benefits of exercises, especially if you only have to do one hour a week to obtain these benefits. Hopefully that's less than you're doing already, because the NHS guidelines are 150 minutes a week plus a couple of strength workouts, and everyone follows guidelines that are designed to make them healthier and happier, right?
Sign up for workout ideas, training advice, reviews of the latest gear and more.