Get Active In November With The Movember Move Campaign
Stop worrying about your facial follicles and rack up the miles – and moolah – this Movember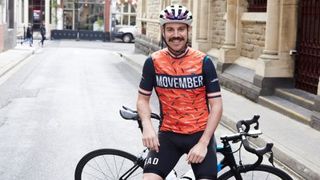 (Image credit: Unknown)
If you've always wanted to do something for Movember, the annual month-long charity campaign to raise funds for men's health issues, but have failed due to the inability to grow a moustache (and, er, you didn't know about the 10K MoRun series), this year offers a new way to get involved.
The Movember Move campaign is encouraging people to pick a distance target, either solo or as part of a team, then try to hit that goal over the course of the month. You can do this by walking, running, cycling, rowing or swimming, and the target can be anything you want. It's not necessarily about smashing out a LEJOG's worth of kilometres (that's Land's End to John o' Groats) around your local park in the month – it's about having fun and raising money for a good cause along the way.
Teaming up with colleagues and friends, and perhaps creating a competitive element with other Movember Move squads, will only help you all hit your goals and enjoy the event more, so we suggest you start enlisting team-mates and potential rivals right away.
If you're wondering what kind of target to set, Movember suggest 338km (210 miles) for an individual if you're walking, running or cycling – that works out at seven miles a day, which is tricky but achievable if you add a short run or bike ride to your daily step count. Movember suggest that the target should be a little lower if you're swimming or rowing – 50km (31 miles) in the month, which is 1,000 laps of an Olympic swimming pool.
Neither of those goals floating your boat? Here are six more possible individual and team targets for Movember.
1. Swim Or Row The Panama Canal
The waterway connecting the Atlantic and Pacific Oceans is 77km, a bold target for a solo swimmer or rower, or an achievable goal for a team of newbies.
2. Walk Or Run Hadrian's Wall
If you reckon the 338km target suggested by Movember is a little too tough, why not try and run or walk the length of Hadrian's Wall – 135km (84 miles) – over the month instead.
3. Cycle A LEJOG
The classic UK long-distance cycling challenge. The traditional Land's End to John o' Groats route is 1,407km (874 miles), so this is one to do as a team event unless you're exceptionally committed to bike riding.
4. Row The Atlantic
You're going to need a big team for this, as the Transatlantic rowing race route is 4,700km (2,930 miles). Even with a 20-person team that's still just under 8km a day each, so try to enlist everyone in your company if you don't want to spend all month on the rowing machine.
5. Cycle Around The World
Mark Beaumont recently completed a round-the-world trip of 29,020km (18,032 miles) in 78 days, 14 hours and 40 minutes. He did it solo, so it should be easy for you and your entire cycling club to hit the target within 30 days, right?
6. Shoot For The Moon
Time to put your massive Facebook friends network to good use. Contact them all, put up banners in your neighbourhood and spend all day in the office kitchen harrying people to sign up to your mega Movember challenge – a 384,400km (238,900 miles) trip to the Moon.
Sign up for workout ideas, training advice, reviews of the latest gear and more.