Take On An Epic Challenge With The Gym Group This Movember
Run the Marathon des Sables, row the length of the Zambezi, or climb Everest without leaving the gym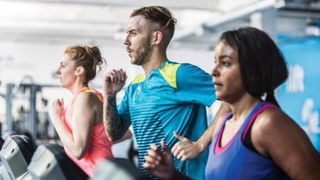 (Image credit: unknown)
As the weather turns colder more and more of us exercise indoors, where the greatest challenge to overcome is boredom, rather than freezing winds and icy pavements. This November, the best way to keep boredom at bay is to sign up for one of the Gym Group's epic challenges in aid of Movember.
All your long stints on the treadmill, exercise bike, rower or stepper can go towards completing a mammoth task like cycling from London to Paris, trekking the Inca Trail or a variety of other challenges. You can attempt these challenges solo or as part of a team, and you can also enter the Gym Group's nationwide fitness challenge – a row from the UK to Melbourne, the birthplace of Movember, and back. That's 34 million metres, if you're wondering, so plenty of participants are required.
To take part in the Melbourne row donate £2, row 1,000m and log it with a trainer at the gym. For all of the other challenges, sign up to take part in the Move campaign on the Movember website, join your local the Gym Group team, and get cracking.
RECOMMENDED: Nine Challenges To Take On With Your Gym Buddy
Membership at the Gym Group requires no contract and starts from £10.99 a month. Use the code MOVE4NJF to sign up with the Gym Group without paying a joining fee this Movember.
Here are some of the challenges you'll be able to tackle with the Gym Group this Movember.
Climb Mount Everest (Or A Smaller Mountain)
Either go all out and climb up big one – that's 9,000m (ish, it's actually 8,848m, but all these targets are rounded up, which will probably really annoy you when you reach 8,848m – it's not like mountaineers are rounding up when they reach Everest's summit), 34,000 steps, or 3,000 floors – on the stepper or opt for a smaller peak. Kilimanjaro is 6,000m, 24,000 steps or 2,000 flours, while the UK's Three Peaks challenge adds up to 3,000m, 12,000 steps or 1,000 floors.
Row The Length Of The Zambezi
You'll need a team for this and a big team at that, because the Zambezi river is 2,574km long. Smaller rivers you can tackle instead include the Thames – which is a more reasonable 346km long.
Ride From London To Paris
Unlike the real trip, you don't have to spend hours on a ferry for a London to Paris cycle if you ride it in the gym. The trip is 394km long, which is a hefty amount to get through solo, so you might want to buddy up for this one. If there's a few of you, you can try to complete the 3,540km route of the Tour de France.
Run The Marathon Des Sables
Two of the toughest aspects of running the Marathon des Sables are the heat and the sandy terrain, neither of which you'll encounter if you switch the 251km race from the Sahara Desert to your local Gym Group branch. That said, 251km is still an awful lot of running, so definitely get some team-mates involved for this.
For more info on Movember challenges available at branches of the Gym Group visit thegymgroup.com/movember
Sign up for workout ideas, training advice, reviews of the latest gear and more.