Try Two Weeks Of Free British Military Fitness Classes This February
Start getting in soldier shape thanks to new online fitness class finder GoSweat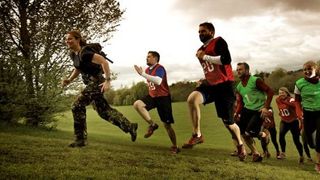 (Image credit: Unknown)
If you're looking for a new way to get fit, having already tried and dismissed standard methods like running, cycling, going to the gym and windsurfing, then might we humbly suggest you give British Military Fitness a go?
All of BMF's fitness classes take place outdoors – a big plus point in our book, because even when it's raining and cold you're building character alongside those muscles – and mix up the types of exercise involved to keep you on your toes. There will be cardio (if your local park has a steep hill, expect to run up it), strength training, HIIT and plenty of teamwork-based exercises. Everything you need to get pretty damn fit, basically, plus the likelihood of making friends with the other regulars in your class.
BMF classes are also suited to all abilities – coloured bibs are handed out to indicate your level of fitness, so you can pair up with people at your level. You never need to fear being the only beginner because there will be plenty of other people in the same boat, but if you are still a bit reticent there are dedicated Beginner Sessions or walking classes to sign up for.
See related
If you're training for a running event BMF also caters to you with its dedicated running sessions. These can be speed or endurance classes, or sessions that focus on drills and technique.
This February you don't even need to spend a penny in order to try BMF's training sessions, as it has partnered up with GoSweat (opens in new tab) – a website that lets you search for fitness classes near you – to offer a free two-week trial.
To take advantage of the offer, head to the GoSweat (opens in new tab) website and enter BMF plus your location into the search boxes. Once you've located your local class, hit the "Try It" button and put in your details (no bank details required, mercifully) for your two-week free trial.
If you get hooked on BMF classes you can sign up for more on the website (opens in new tab). Membership costs from £40 monthly or you can book a block of ten sessions for £120.
Sign up for workout ideas, training advice, reviews of the latest gear and more.