Let This Silly Online Tool Plan Your Next Home Workout For You
If you're bored with schlepping to the gym, this website will provide some workout inspiration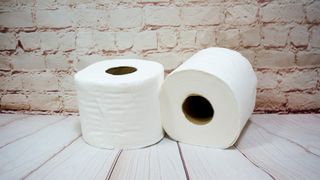 (Image credit: Unknown)
Everyone knows that it doesn't take the latest equipment, flash new gear or an expensive gym membership to get fit. In fact, you never need to leave the house (or even get dressed) to stay active – but how many of us have unlocked the true workout potential of the home?
Sure, you can do a bodyweight workout anywhere you have space, but we're not talking about doing some press-ups in front of the TV. We're talking about enlisting your everyday items to help in your workouts.
A new online tool created by home interiors specialist Hillarys is designed to make you look around your home and assess the workout possibilities of everything you see. Pop your feet on a towel and you have a great slider for knee tucks, for example, while those cans of baked beans and heavy bottles of laundry detergent are just begging to be curled.
If nothing else, using the tool will at least give you a different workout to try if the monotony of your usual routine starts to wear you down – and rest assured you don't need to hand over your personal details to see the exercises. To use the tool, head to the Hillarys website (opens in new tab) and select at least three of the 23 common household items listed. You will have three of them – even if you shun all furnishings your residence will still have walls, a door frame and toilet roll. We hope.
Once you've selected your items click continue and you're given a range of exercises to try. For each item you are given an easy and a hard exercise. For example, with a stack of heavy books the tool suggests balancing them on your feet and doing leg lifts while sitting in a chair, or holding them against your chest while you do sit-ups. And if you have a bag or oranges to hand, you can use them for goblet squats or triceps extensions. You can presumably use other types of fruit for this too, but apples will bruise if dropped, so make sure you don't try and lift more Granny Smiths than you can handle.
We'll come out and say it – some of the exercises are not likely to ever appear in your routine again, because they are slightly silly and you feel slightly silly doing them. Reaching out an arm to stack toilet rolls while doing a plank springs to mind here. But there also plenty of exercises that are worth doing at home – like triceps dips off your living-room table, knee tucks using a towel, or calf raises while wearing a backpack full of canned food. So never underestimate how much of a workout you can get without ever setting foot in a gym.
Sign up for workout ideas, training advice, reviews of the latest gear and more.