RED January Is A Great Way To Achieve Your New Year's Resolution To Get Fit
Boost your physical and mental health by doing some kind of activity every day in January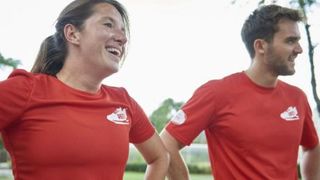 (Image credit: unknown)
If you're planning to start a fitness kick in January then the chances are you're doing so for purely physical reasons. You might want to lose weight, get fitter or bulk up, for example. You probably haven't considered the effect of an exercise regime on your mental health, but you absolutely should, because regular exercise can be as just as beneficial to your mental state as it is to your physical one.
RED January (opens in new tab) is an event that supports the mental health charity Mind and asks participants to commit to being active every single day of January. That can mean running every day, or swimming, cycling, walking to work or whatever else you like to do to get the heart pumping, all with the aim of boosting your mental health. After last year's RED January, 87% of REDers said they felt significantly better – both physically and mentally. It's free to sign up and you can choose whether or not you'd like to raise money for Mind (opens in new tab).
It's the perfect way to get active if you have a fitness-focused New Year's resolution on your list. For one, we reckon a month-long challenge is a great way to start the year and help get you over the motivation hump that derails so many fitness kicks a couple of weeks into January.
See related
Extra motivation will come from the thousands of other people who are taking on RED January as well, and you can find communities on Facebook, Twitter and Instagram to help with a dose of motivation when you can't summon the will to exercise.
The fact that the exercise can be anything you want means this is a highly achievable challenge. If you don't already have a favourite sport then use the month to try out a whole load of different things. It will be great fun and you'll almost certainly find something you really like.
You don't need to go hell for leather on any one day either, which is often something that knocks people off their stride when they start a fitness regime. Push too hard too early and your body is likely to suffer from delayed onset muscle soreness, the biggest killer of exercise motivation. With RED January you know you have 31 days of activity to get through, so it's wise to take it easy early on.
This type of challenge also means you're not focused on any physical change, which means you won't be put off if you're not seeing the difference you were hoping for. You're trying to make yourself feel good by exercising (although we bet you'd get a pleasant surprise if you step on the scales a couple of weeks in), and there's no better target to have this January, or at any other time, for that matter.
Register for RED January (opens in new tab) | Free
Sign up for workout ideas, training advice, reviews of the latest gear and more.