Take On The One Million Steps Challenge To Keep Moving This Summer
It might sound like an impossible goal, but log 10,800 daily steps for three months and you'll hit the million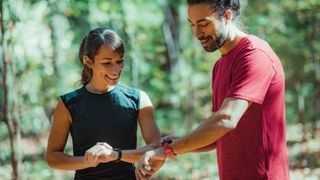 (Image credit: unknown)
On the face of it, one million steps is an outlandish goal. Fortunately, you don't have to do them all in one go. The Diabetes UK One Million Steps Challenge runs from 1st July until 30th September and divides the steps up quite neatly to 10,800 steps a day – just a smidge over the classic 10,000 steps goal we've all known about for years.
It's free to take part in the challenge, with a suggested fundraising goal of £120, though any money you can raise for Diabetes UK will be very welcome. There is also an easier goal of 500,000 steps over the period, which works out at 5,400 steps a day, and a more advanced target of 1,700,000 steps. That would cover the distance between Land's End and John o' Groats and you'll need to average 18,400 steps a day to reach that goal.
Whichever target you pick, you'll be taking a whole load of steps, so we were keen to find out how effective that is for improving your health. Diabetes UK's One Million Steps challenge is supported by Fitbit, and through Fitbit we spoke to GP Dr Sara Kayat about the 10,000 steps target and what it can do for your health.
What are the benefits of taking 10,000 steps a day for people who either have type 2 diabetes or are looking to avoid it?
Physical activity is an important factor in managing and preventing type 2 diabetes because it helps people control blood sugar levels, maintain a healthy weight and reduce cardiac risk factors. Exercise can come in many forms and walking is often overlooked, but it is available to most, and is an excellent and free way of incorporating activity into your everyday life.
Will any light to moderate cardio exercise have a similar effect?
The NHS guidelines suggest doing 150 minutes of moderate-intensity activity or 75 minutes of vigorous-intensity activity a week. This includes anything that makes your heart rate go up and breathe faster, so it doesn't just have to be walking but can for example include a bicycle ride, swimming and dancing. Even housework or gardening can count.
Can hitting a steps goal alone help you get fit and stay fit?
Wellbeing includes all the pillars of health, which are sleep, stress management, nutrition and physical activity. It is important to consider all these in order to get and stay fit. However, people who create healthy habits in one area tend to then create healthy habits in other areas. So achieving a steps goal may make it easier to build up the other pillars to maintain an overall healthy lifestyle.
See related
If you're looking to lose weight, will taking 10,000 steps a day be enough?
Everyone is different, with differing activity level requirements, so it is difficult to say whether 10,000 steps a day would be enough to lose weight. But it is great to have a goal that you can build on, and 10,000 steps is a good start.
What else can you do alongside hitting your steps?
Focusing on ways to improve all four pillars of health can help to manage and prevent diabetes. They all interlink and you cannot exercise away a bad diet, or sleep well if you are stressed, nor can you expect to exercise if you aren't sleeping. So make small, achievable moves towards optimising all these areas where possible.
Sign up for workout ideas, training advice, reviews of the latest gear and more.