The Ballot For The New York City Marathon 2023 Opens On 8th February
This is you chance to throw your name into the hat for the race in November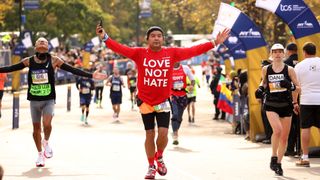 (Image credit: Elsa/Getty Images)
The TCS New York City Marathon (opens in new tab) is the biggest marathon in the world, with almost 50,000 finishers in 2022, but that number is still a mere fraction of the number who want a place in the race, so a ballot is used to determine who gets a spot.
This year's race takes place on 5th November and the ballot is open from Wednesday 8th February until 22nd February. The results will be announced on 1st March.
There are actually three ballots for the NYC Marathon. One is for applicants from the NYC metro area (people who live within 60 miles of New York City) one is for other US residents, and one is for international applicants, and an equal number are selected from each pool.
It's free to enter the ballot, but you have to give details of a credit or debit card and if you are selected the card is charged for entry. You don't get a chance to back out after the draw, though you can remove your name from the ballot before it's drawn. You can cancel your entry and get a guaranteed place in next year's race, but you will still be charged for the 2023 spot and have to pay again in 2024.
It costs $295 to enter the NYC Marathon if you're not a member of the New York Road Runners (NYRR), which organises the event, with entry reduced to $255 for members. It's $358 for international participants.
The odds of getting a ballot place are fairly slim, but there are other ways to get into the NYC Marathon 2023. There's charity entry and the official list of charity partners (opens in new tab) for the race will be announced on 1st March.
Fast runners can also get a place in the race if they have run a qualifying time (opens in new tab) in a half marathon or marathon in 2022. The times required vary by gender and age group, and places are allocated on a first come, first served basis, although those who log the time in an NYRR-organised event take precedence.
Speaking of NYRR events, you can also gain entry via the 9+1 programme (opens in new tab), which guarantees places for people who run in nine NYRR events and volunteer at one in a calendar year. If you didn't do this in 2022, start logging your races in 2023 now for the 2024 NYC Marathon – there are 30 in-person and three virtual events in 2023 that are eligible for the 9+1 programme.
International runners can also enter via an International Tour Package – you'll find a list of official providers on the NYRR website (opens in new tab) – and if you happen to have finished the NYC Marathon 15 times in the past, you get a guaranteed spot in all future events if you want it.
No matter how you get in, get a head start on your preparations with these New York City marathon tips, courtesy of the fastest American woman to have run the course, Molly Seidel, then pick which marathon training plan to follow. Start one of our 14-week plans at the end of July to be race-ready come November.
Sign up for workout ideas, training advice, reviews of the latest gear and more.