This iPad Stand Is The Home Gym Accessory I Never Knew I Needed
I didn't realise just how indispensable a well-designed tablet stand is until I had one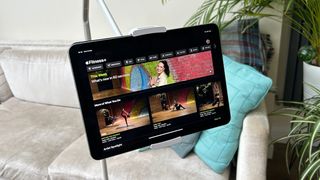 (Image credit: Nick Harris-Fry / Future)
When kitting out a home gym you have to start with the essentials. Free weights like dumbbells and kettlebells, an exercise mat, maybe a cardio machine like a treadmill or exercise bike if you have the budget (and space).
One item that probably doesn't feature on your list is a tablet holder. But now I have one, it feels essential, and I use it during almost every home workout I do.
It's not just any tablet holder either. The Twelve South HoverBar Tower for iPad is a deluxe tablet holder (it does work with other tablets, despite the name) that costs $129.95/£139.95.
Given that you can find tablet stands elsewhere for a quarter of the price, I was sceptical that the Twelve South Tower could justify its high price. You can find better value elsewhere if prepared to hunt, but it is an extremely well-designed bit of kit and when trusting something to hold an expensive iPad at head height for long periods, it provides serious peace of mind.
The Twelve South Tower has a very heavy base, which means it won't topple over even when holding the tablet out in front of it. It's adjustable from 90cm to 150cm in height, which you can do quickly by unscrewing sections or raising/lowering the arm. The clip holds devices securely without risk of marking them.
That's just about all the features on offer here, but I underestimated the utility of the stand until I had it. I've used it during a variety of workouts, on the treadmill and exercise bike, plus strength and yoga sessions.
Sometimes I use it to follow a guided workout on apps like Apple Fitness+ or Fiit, other times it's for entertainment purposes during training, using Zwift or just sticking on a TV show. Either way, being able to position the screen exactly where it's needed is always useful, as opposed to propping my tablet up on a pile of boxes, or having to put it at an annoying height that's hard to see.
It's a small but significant quality of life improvement every time I do a home workout, and also comes in handy at other times, such as when I was required to put on Cosmic Kids yoga outside and didn't want to put my iPad on a wet tree stump.
Did I manage fine before I had the stand? Yes. But now I have it, I certainly don't want to go back to my past, stand-less existence.
Sign up for workout ideas, training advice, reviews of the latest gear and more.