The Most Iconic Sports Shoes Ever
Golden Kicks charts a century of footwear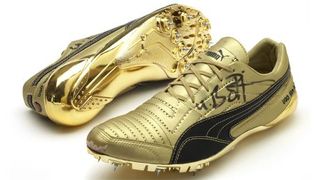 (Image credit: Puma)
Over the past 100 years, sporting footwear has changed an extraordinary amount, with the only similarities between today's shoes and those of the early 20th century being that they go on people's feet. Some have gone on to become as iconic as the wearer themselves. Golden Kicks, a new tome, provides the history behind the most significant sport shoes ever made. Here are five of Coach's favourites…
---
Was it arrogant of Michael Johnson to turn up at the 1996 Olympics wearing gold shoes? Yes. But still to this day he remains the only man to win the 200m/400m gold double, and he did it in glorious golden shoes.
---
According to legend, basketball player Chuck Taylor walked into the Converse offices in 1921 complaining that they hurt his feet. The revisions he suggested helped it become the only shoe in town. Although its influence in the sport has since waned, Converse are still omnipresent on the streets.
---
While football boots have become more garish with each passing year, the Copa has stood firm, with its classy, monochrome design the same today as it was when first launched in 1979.
RECOMMENDED: The Best Five-A-Side Football Boots
---
Running faster than anyone else in history requires a special shoe. Wearing these beauties, Usain Bolt won three golds at the Beijing Olympics in 2008, and when he grabbed three more in Rio this summer to secure an historic triple-triple, he was once again wearing golden Pumas.
---
It's tricky to imagine any footwear matching the impact of the Air Jordans. Michael Jordan first pulled on a pair in 1984, and 30 years later, in 2014, his shoes were still outselling the next most popular by eight to one.
Sign up for workout ideas, training advice, reviews of the latest gear and more.