Garmin Enduro 2 Vs Garmin Fenix 7
How much you're prepared to spend for battery life will determine whether you opt for the Garmin Fenix 7 or Enduro 2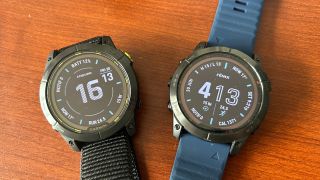 (Image credit: Nick Harris-Fry / Future)
The original Garmin Enduro was a strange watch, in that it didn't have some of the features on the Garmin Fenix 6 range, such as music storage and maps, but it cost more—with its only advantageous feature being its long battery life.
With the Garmin Enduro 2, you no longer have to choose between features and battery life because it offers everything you get on the Garmin Fenix 7 with longer battery life. That comes at a cost, however, and with the Fenix 7 being one of the best sports watches, it's the better value pick for most people.
When it launched, the Garmin Fenix 7 was the top non-AMOLED sports watch in Garmin's range, but has been superseded by the Enduro 2 and Fenix 7 Pro. However, it's still a great option, since it has all of Garmin's best features and is cheaper than its newer watches.
For
Cheaper than Enduro 2
More design options
Top sports tracking and analysis
Against
Not as long-lasting as Enduro 2
Only sapphire models have multi-band GPS
Only 7X has flashlight
The easiest way to think of the Garmin Enduro 2 is that it's a Garmin Fenix 7 Plus, with the same features but better battery life. It also has a slightly different look, with green flashes and a nylon band as standard. There is only style available, though, whereas the Fenix 7 range has a variety of designs.
For
Amazing battery life
Nylon band
Against
More expensive than Fenix 7
Only one style
Garmin Fenix 7 vs Garmin Enduro 2: Price And Availability
The Garmin Enduro 2 launched in August 2022 and is one of the most straightforward watches in Garmin's range: there is one model, which costs $1,099.99 in the US and £929.99 in the UK. It's the most expensive sports watch in Garmin's range, unless you count the Marq luxury watches.
By contrast, the Garmin Fenix 7 range is sprawling and the price varies depending on the size and materials you opt for. The Fenix 7 originally launched in January 2022 and its RRP has now dropped in the UK, while remaining the same in the US.
There are three sizes of the Fenix 7. The smaller Fenix 7S and Fenix 7 cost $699.99/£559.99 for the base steel models, and $899.99/£779.99 for the titanium models with sapphire screens and solar panels. The larger Fenix 7X is $899.99/£739.99 for the steel watch and $999.99/£829.99 for the sapphire solar watch.
How I Tested These Watches
I tested the Garmin Fenix 7X Sapphire Solar model for several weeks prior to its launch in 2022, and have used it occasionally since to compare with other models. I tested the Garmin Enduro 2 for a month when reviewing it, and have used it regularly since as one of my main sports watches. I run around 50-70 miles a week, along with doing other workouts, and have tested almost all of Garmin's watches.
Design
The Fenix 7S has a 42mm case, the Fenix 7 a 47mm case, and the Fenix 7X a 51mm case. All of the cases are made from plastic with either a steel bezel and case back for the cheaper models or a titanium bezel and back for the sapphire solar models.
The screens on the base models are made from gorilla glass and there are no solar panels around the watch face. The sapphire solar watches use power sapphire crystal for the screen and have the solar panels to boost battery life. The screen sizes are 1.2in for the Fenix 7S, 1.3in for the Fenix 7 and 1.4in for the Fenix 7X.
The Enduro 2 is similar in design to the Fenix 7X Sapphire Solar. It also has a 51mm case, solar panels and uses titanium for the bezel and back. The Enduro 2 is slightly thicker at 15.6mm compared with 14.9mm for the Fenix 7X, and it's also a few grams heavier at 64g for the case compared with 61g.
The Enduro 2 feels lighter, however, because it comes with a nylon strap. This nylon strap is lighter and more enjoyable to wear than the silicone bands that come as standard with the Fenix 7X, and since Garmin charges $60/£55 for this strap it offsets the price difference a little. That said, I've picked up similar nylon bands on Amazon and eBay for around £7 in the UK and used them for months.
The Garmin Enduro 2 has a flashlight built-in to the top of the watch, which is the same on the larger 7X models of the Fenix 7 range, but not the Fenix 7S and Fenix 7.
A notable design difference is that the Enduro 2 has one style, which is black with yellow accents running around the screen at the hour marks, and a yellow accent on the start/stop button. The Fenix 7 comes in several colors, both for the bezel and watch case, including a blue bezel with white case or a rose gold bezel with a light sand-colored case. The extra colors may swing it for the Fenix if you're on the fence and don't love black.
It's only the sapphire models of the Garmin Fenix 7 that offer multi-band GPS tracking, which is more accurate than the other modes available on Garmin watches. Multi-band is available on the Enduro 2.
Battery Life
The Garmin Enduro 2 is long-lasting, no matter how much you use it. It outperforms the Fenix 7 on this front, and by a long way if you use a smaller Fenix 7 watch. However, the Fenix 7 is no slouch on battery life, and if you opt for the larger Fenix 7X it will go for weeks on a charge—or longer if you're outdoors a lot in sunny conditions with a solar model.
The difference in battery life between the Fenix 7X and Enduro 2 was probably only four or five days of overall use in my experience, but the difference is more telling when looking at how long they can track activities for. If you're lining up an exceptionally long or multi-day activity, the Enduro 2 offers significantly more battery life than the Fenix 7X—even in the most accurate multi-band GPS tracking mode.
Swipe to scroll horizontally
| | | | | |
| --- | --- | --- | --- | --- |
| Row 0 - Cell 0 | Garmin Fenix 7S | Garmin Fenix 7 | Garmin Fenix 7X | Garmin Enduro 2 |
| Watch mode | 11 days/14 days solar | 18 days/22 days solar | 28 days/37 days solar | 34 days/46 days solar |
| GPS-only | 37 hours/46 hours solar | 57 hours/73 hours solar | 89 hours/122 hours solar | 110 hours/150 hours solar |
| All-systems-on GPS | 26 hours/30 hours solar | 40 hours/48 hours solar | 63 hours/77 hours solar | 78 hours/96 hours |
| Multi-band GPS | 15 hours/16 hours solar | 23 hours/26 hours solar | 36 hours/41 hours solar | 68 hours/81 hours solar |
Sports Performance
Since I tested the Fenix 7X Sapphire Solar, my experience of using both watches was incredibly similar, and both have all the same sports tracking and training analysis features, including the new ones that launched with the Garmin Fenix 7 Pro and Garmin Epix Pro watches in May 2023.
They are also comparable in GPS and HR accuracy, with the only thing to note here that opting for a non-sapphire model of the Fenix 7 means you don't get multi-band GPS. This is something I've noticed is more accurate than the other GPS modes on Garmin watches. The all-systems-on tracking you get with the cheaper Fenix 7 watches is still good, but if you want the best distance and pace tracking, especially in tricky conditions like under tree cover, multi-band GPS is worth having.
Garmin Fenix 7 vs Garmin Enduro
The original Garmin Enduro is still available and sometimes pops up in sales at appetizing prices. It's a great sports watch for those who aren't fussed about the music storage and maps available on the Garmin Fenix 7, and in general are happy with a simpler watch with great battery life.
However, it's not just music and maps that are missing on the Garmin Enduro: it doesn't offer multi-band GPS or all-systems-on, so it's less accurate on that front. Several recent software updates haven't been rolled back to it, including useful features like training readiness or the new hill and endurance scores Garmin launched with the Fenix 7 Pro.
The Enduro does offer great battery life, and is the longest-lasting watch for general use I've tested. It will go for 50 days (65 days with solar) in watch mode. However, it's less impressive than the new Enduro 2 when tracking activities, only lasting 70 hours (80 hours with solar) in GPS-only mode, which is also less than the Fenix 7X.
Given that Garmin still has the RRP of the Enduro at $799.99 for a steel version or $899.99 for a titanium watch (in the UK it's no longer available from Garmin directly), it's not worth looking at unless you see it on sale for a huge discount. If you can grab an Enduro for around $500/£400 then it may make an interesting decision for you to make.
Sign up for workout ideas, training advice, reviews of the latest gear and more.