Garmin Vs Polar: Which Should You Buy?
Garmin and Polar have great sports watches in their ranges, but for the most part Garmin has the edge on features and performance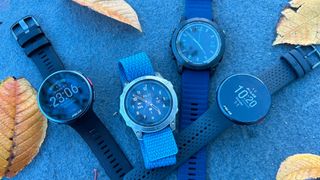 (Image credit: Nick Harris-Fry / Future)
Garmin and Polar make some of the best sports watches and are established as the two biggest brands for the seriously sporty, though Coros has made inroads into that market of late, and Suunto has a dedicated following too.
If you're choosing between Garmin and Polar, you have decisions to make at pretty much any level—whether you're a beginner looking for your first watch or an athlete needing the best of everything. Here, I'll go through the key differences between the brands, though from the outset I'll say that Garmin is clearly the better pick for most people right now.
How I've Tested These Watches
I've been testing sports watches from all the major brands for several years and have reviewed almost every device in Garmin and Polar's current ranges. When testing watches I use them for two to three weeks, tracking all of my everyday activity and sleep, as well as my workouts, with my main sport being running—I usually log around 50-70 miles (30km-43km) a week. I check the accuracy of the GPS and heart rate sensor on the watch, looking at the usefulness of the training analysis and smart features, such as navigation, as well as battery life.
Garmin vs Polar: The Range
Garmin makes a lot of watches and its range can be confusing to navigate. There are the Forerunner watches, which are mainly aimed at runners and triathletes, while the Vivoactive and Venu watches are designed to feel more like smartwatches and to be suitable for general activity and workout tracking.
The upper echelons of the range contain the Fenix, Enduro and Epix watches, which are packed with the brand's top features, and have more rugged, outdoorsy designs than the Forerunners, while also offering longer battery life. There is also the ultra-expensive Marq range, which has watches with distinctive designs, though these mostly run the same software as Garmin's other top sports watches.
Whichever Garmin watch you get, the core user interface and sports tracking has many similarities. The foundations are always strong, and you fine-tune your choice based on the features you deem essential and the price you're willing to pay.
Things are simpler with Polar's range, which contains fewer watches. The budget option is the Unite, a basic fitness tracker, while the Pacer and Pacer Pro are the cheaper sports watches available.
The Polar Ignite 3 stands out in the range because of its AMOLED screen, which makes it the best-looking Polar available, and it also has good sports tracking. At the top of Polar's tree are the Vantage V2 and Grit X Pro sports watches: The Grit has a hardier design for outdoor adventures, while the Vantage V2 is sleeker and lighter for those focused on performance. (The Vantage V3 has been announced but I have yet to test it.)
There are older Polar watches available as well, like the Vantage M2 and Grit X. The Vantage M2 has effectively been replaced by the Pacer Pro, which has more features and is cheaper. The Grit X is still worth investigating as a cheaper alternative to the Grit X Pro, though the latter has extra features.
Design
For the most part, Garmin and Polar stick to a similar formula for their sports watches, which have plastic bodies and three to five buttons. However, the amount of buttons varies, and the smartwatch-style devices in both ranges have fewer. Touchscreens are becoming more common across the ranges, and both brands have watches with bright AMOLED displays, as well as some with the classic LCD screens that are better for battery life.
In Polar's range the Ignite 3 is the only watch with an AMOLED display, while Garmin has the Venu and Epix ranges, plus the Vivoactive 5, Forerunner 265 and Forerunner 965 watches, and the Marq 2.
Garmin also has many watches that use metal in their design, with steel or titanium bezels and case backs. Most of these are found in the Fenix, Epix, Enduro and Marq ranges, though the Forerunner 965 has a thin titanium bezel on its otherwise plastic design. Within Polar's range the Grit X Pro Titan and Polar Ignite 3 Titan models have titanium bezels, while the standard Grit X Pro has a steel bezel, and the Vantage V2 has an aluminum case.
Overall, Garmin's devices look more modern than Polar's. Many Polar watches have a thick black bezel that surrounds the screen and makes them look somewhat dated.
Sports Tracking
Both brands successfully manage the basics of sports tracking, with lots of customisable sports modes and a structured workout-builder, and offer training plans you can follow from your wrist, along with suggested workouts each day.
One area where Garmin has moved ahead in recent years is GPS accuracy. Garmin has many devices that offer multi-band GPS, and its watches with this mode have proved the most accurate for distance and pace tracking of all the brands I've tested.
Polar only has one watch with multi-band GPS, which is the Ignite 3, and in my testing it didn't perform well for GPS accuracy, delivering frequent errors during runs. I hope Polar will address this with the next generation of the Vantage V watch, because currently Garmin's superiority is clear.
With regards to heart rate accuracy, the optical sensors in both brands' watches are good most of the time, though I still spotted errors and lag compared with the readings from a chest strap. Garmin launched a new heart rate sensor with the Epix Pro and Fenix 7 Pro watches and this has proved more accurate during my testing, but with both brands I'd opt for an external chest strap or armband to get the best results on heart rate.
One notable difference between them is that Garmin watches link to external sensors via Bluetooth and ANT+, while Polar's latest watches use Bluetooth only.
Training Analysis
Polar once led the way for training analysis, but in recent years this is another area where Garmin has moved ahead. Polar's training analysis is still extensive and useful, though you need to use the Polar Flow website to get the most detail on your training load and recovery, but Garmin offers the same features and more.
One of the major additions to Garmin watches over the past two years is training readiness. This is a simple rating out of 100 that says how ready you are to train, based on factors including your recent training and sleep, and heart rate variability. It's a great distillation of the data being tracked by the watch that's clear and easy to use. The underlying data is available too, if you want to dive into more detail.
Garmin has added interesting new ratings to its top watches in hill score and endurance score, which rate your proficiency in those areas. I've found Garmin's VO2 max estimates and race predictions to be more accurate than Polar's, which tend to be somewhat optimistic for me. I will say, though, that Garmin is less accurate with some tracking than Polar, notably sleep, and this feeds into other training analysis.
Smart Features And Navigation
Garmin has also moved ahead of Polar in smart features. While Garmin doesn't have access to an app store as impressive as Apple's or Google Play, it offers a range of watches with key smart features like music storage and NFC payments. Its music watches can link to streaming services including Spotify and Amazon Music, and the Garmin Venu 2 Plus and Venu 3 can make calls.
By contrast, Polar's smart features are limited to mirroring notifications, showing a weather forecast and controlling music playback on a connected phone. Garmin also has its Connect IQ app store, which for now mostly contains watch faces and extra data fields, but has useful third-party apps including a parkrun barcode app, so you can have it on your watch.
Garmin leads the way on navigation features. Its top watches have fully routable color maps with turn-by-turn directions and extra features like ClimbPro, which analyzes all the climbs and descents on your route so you can judge each one. You pay a lot for a Garmin watch with maps: Its mid-range watches have breadcrumb navigation, with a line and pointer on the watch to follow, plus a back-to-start feature.
Polar offers breadcrumb navigation with turn-by-turn directions on several of its watches, which is good enough in most situations, and it has a back-to-start feature, though it doesn't have maps on any watch yet.
Activity And Sleep Tracking
All Garmin and Polar watches track everyday activity and sleep. For activity, your steps, calories burned and active time are recorded. With Garmin you can set a step goal or have it automatically adjust to your activity levels, so the target is always appropriate for you.
With Polar you choose from three overall activity targets, and each day aim to hit 100% of that goal. The targets combine all your activity and the three levels are aimed at different levels of activity, where the hardest goal should be a challenge—even for those running every day, in my experience.
Polar's sleep tracking is more advanced than Garmin's, and more accurate. With Polar you get a detailed breakdown of your sleep focused on three areas (amount, solidity and regeneration) and Polar graphs out the day after your sleep, showing when you're likely to be most alert and giving you a sleep window to aim for the following day.
Garmin graphs out your sleep stages through the night and gives you a sleep score, and the accuracy of its tracking has improved of late, but I've often found Garmin logs periods where I'm awake but lying still as light sleep, and so overestimates my total sleep. I've tested some Polar watches that haven't logged any sleep at all, though when they do it's usually more in line with how I actually slept than Garmin's logs.
Battery Life
The battery life on Garmin watches varies throughout its range. Some of the Fenix and Enduro watches last weeks on a charge. It also has several watches with solar panels, which can extend the battery life considerably in the appropriate conditions, though these are not that easy to find if you live in the UK and mostly work indoors.
The longest-lasting watch is the Garmin Enduro 2, which can go three weeks between charges even with heavy use. How long the battery lasts depends on factors such as whether it has an AMOLED screen and whether you use multi-band GPS, which is the most power-intensive mode. Smaller watches like the Garmin Forerunner 55 last around a week.
Polar's watches don't vary much in battery life, and in general offer far less than Garmin. The Vantage V2 and Grit X Pro will last five to seven days with my use, while the Polar Ignite 3 with its AMOLED screen lasts just one to two days if the screen is always-on, and three to four if not. Polar watches drain faster at night than Garmin, perhaps because of the extra detail they offer for sleep tracking.
With regards to GPS battery life, Polar's top devices offer about 40 hours of tracking (without multi-band). Garmin's devices vary depending on the watch size and GPS mode, but the Enduro 2 offers 110 hours of GPS-only tracking, or 68 hours of multi-band.
Verdict: Best Garmin and Polar Watches To Buy
If you want to buy a Polar watch, the Pacer Pro is the model to go for, since it has all the key features you get from the Vantage V2 and Grit X Pro watches and costs less. However, for a similar price you could get the Garmin Forerunner 255, which is a more accurate and accomplished watch.
I'd say this is the case throughout the two ranges, with Garmin offering better options at every price. The Garmin Forerunner 55 is the best beginner running watch, though if you find the Pacer Pro in a sale for a similar price it is a full multisport watch, whereas the Forerunner 55 doesn't have a triathlon mode.
If you want a sporty watch with some smarts, Garmin is the clear pick, whether you opt for a Venu or an AMOLED Forerunner, like the 265. The best mid-range multi-sport watch from either brand is the Forerunner 255, or the 265 if you are happy to pay more for an AMOLED screen.
At the top end of the range, Garmin leads once more: Every watch from the Forerunner 955 and 965 up offers all its best features, many of which you won't find on any Polar watches, like maps, music, training readiness and multi-band GPS. The Forerunner 955 or AMOLED 965 are good value for a top-end watch, while the Epix, Fenix and Enduro ranges offer more rugged metal designs and longer battery life.
Sign up for workout ideas, training advice, reviews of the latest gear and more.