The Garmin Fenix 7 Is Going To Space
Garmin's adventure watch will track the biometrics of crew aboard the Polaris Dawn space mission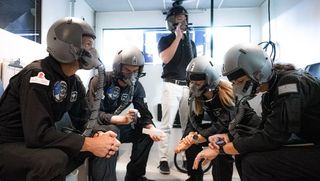 (Image credit: Garmin)
The Garmin Fenix 7 is a sports watch that's built for adventure, with a rugged design and a big battery that can last for weeks. Later in 2023, the Fenix 7 will be tested in a completely new environment when it's worn in space by the crew of the Polaris Dawn space mission (opens in new tab).
SpaceX's Falcon 9 rocket will launch the Polaris Dawn mission aboard a Dragon spacecraft from NASA's Kennedy Space Center in Florida. The crew will spend up to five days in orbit, attempting to reach the highest orbit ever flown by humans. When they are 700km above the Earth, the crew will also attempt the first commercial space walk.
During the mission the Fenix 7 will track the four crew member's biometrics to see how their bodies react to being in space, measuring things like heart rate and pulse oximetry, and tracking their sleep.
"The trove of biometric data provided by Garmin Fenix smartwatches will allow us to better understand how the body adjusts to being in space," said Jimmy Wu, senior biomedical engineer at the Translational Research Institute for Space Health (TRISH) at Baylor College of Medicine.
"Once collected, this physiological data will be added to TRISH's EXPAND database, aiding current and future research to study and understand human health and performance for all future human space exploration missions."
Given that the crew is unlikely to be firing up the GPS to track any long runs during the mission, the Fenix 7's battery will be more than enough for the five-day mission. While reviewing the Garmin Fenix 7X we found it lasted us weeks, even with daily runs.
That said, people have run marathons in space before – NASA astronaut Sunita Williams did it first in 2007 as an honorary entrant to the Boston Marathon, while British astronaut Tim Peake ran the London Marathon in space in 2016. Both used harnesses to anchor them to a treadmill during the run, and unfortunately no info is available on which watch they used, if any.
Sign up for workout ideas, training advice, reviews of the latest gear and more.