The Garmin Forerunner 265 Is Almost Perfect
The new Forerunner 265 has a bright AMOLED display and almost all of Garmin's best features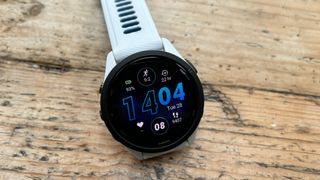 (Image credit: Nick Harris-Fry / Future)
The Garmin Forerunner 265 has landed and immediately looks like one of the best sports watches available, with two major upgrades on its predecessor, the Garmin Forerunner 255.
One of those upgrades is obvious as soon as you look at it: the bright AMOLED display is fantastic and more enjoyable to look at than the transflective memory-in-pixel display on the Forerunner 255.
The other significant update on the watch is the addition of Garmin's training readiness, which is the most useful form of training analysis I've come across. It digests a wealth of data tracked by the watch, like your training load, sleep history, recent stress, and spits out a rating of your current readiness to train. It's even colour-coded, which really pops on the new AMOLED display.
These new features mean that the Garmin Forerunner 265 is not only a worthwhile upgrade on the Forerunner 255, but also a significant contender among the best running watches that cost a lot more, like the Garmin Epix 2 or Forerunner 955 (or the new Garmin Forerunner 965, which also has an AMOLED display).
There's still some reasons to upgrade from this range, though, and the main one is maps. Garmin wasn't expected to introduce maps to the Forerunner 265, but the maps are such a brilliant feature on the top Garmin watches that they're a compelling reason to splash out on them.
The bigger, pricier watches also offer more battery life than the Forerunner 265, as does the Forerunner 255. Given the AMOLED display on the new watch, battery life was always going to take a hit, but it should still last three to five days on a charge with the always-on screen enabled, based on my early testing.
Obviously, if the new screen and training readiness feature don't tempt you, the Forerunner 255 is a better choice because you get more battery life and save money too, since the new watch comes with a big price hike. The Forerunner 265 costs $449.99 in the US and £429.99 in the UK, compared to $399.99/£349.99 for the Forerunner 255 Music.
Aside from the rising price, I'm a fan of the direction Garmin has taken with the watch. I love the brighter display and the addition of training readiness means that the Forerunner 265 is a more than viable alternative to Garmin's best and most expensive watches. The breadcrumb trails it offers still works fine in getting you from A to B too, though the maps and navigation features on Garmin's top watches will always be a draw for many.
Sign up for workout ideas, training advice, reviews of the latest gear and more.