I've Tested Every Pair Of Nike Leggings And These Are The Best For Running
Nike Universa, Nike Go, Nike One, or Nike Zenvy? Find out which are the best Nike leggings for runners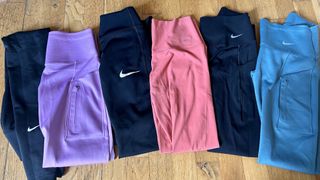 (Image credit: Jane McGuire / Future)
Global sportswear juggernaut Nike makes the most popular running shoes on the planet and has some of the world's fastest athletes on its books. But if you're looking for a pair of Nike's famous leggings to get you round your next parkrun without a glitch, it can be difficult to know where to start. Unlike most premium brands, Nike stocks a range of leggings at different price points to suit every runner. What's more, most styles come in a wide range of sizes and two different leg lengths to accommodate all body shapes.
So, if you're a fan of the Swoosh, you'll want to know which are the best Nike running leggings to buy and which styles you should avoid. To find out more, I put every style of Nike's running leggings to the test, over a number of different sessions and distances. When testing, I evaluated the fabric and feel of the leggings—how effective they were at wicking sweat away from my body, how supportive they were on the move and how comfortable I found the waistband. I also looked for little extras, like pockets for stashing my phone and running gels, a drawcord waistband for a secure fit, and reflective details for running in low light.
All the leggings tested here are now made from at least 50% recycled polyester or nylon—the yarn is made from recycled plastic bottles, carpets and used fishing nets, which is pretty impressive.
To compare these with our favorites from other brands, check out the best Lululemon running leggings, the best Sweaty Betty running leggings, and the best running leggings for women here.
The Best Nike Leggings Reviewed
For each of the Nike leggings on test, I'll run through the features, what type of activities each pair is best suited for, and how they performed for me. I'm a US 4 (UK 8) and am 5ft 2in (157cm) tall. I tested all the styles in a Nike size small.
The Nike Zenvy, Nike Universa, and Nike Go are all new additions to the brand's line-up of workout leggings that launched in 2023. A Nike representative explained to Coach that the brand is moving away from the idea that certain leggings are "best" for certain sports. Instead, the newer leggings are divided into gentle, medium and firm support, depending on personal preference. I've tested all three styles of the new leggings.
---
The Nike Zenvy leggings are smooth and soft, and with gentle support they are suitable for yoga, bike rides and walks. At £90/$100, this is a high-end product and comparable to top picks from Lululemon and Sweaty Betty. These leggings are made from the brand's Infinasoft fabric, which is lightweight and super-stretchy while still being squat-proof. They're available in sizes XS-3XL.
I found the Zenvy extremely comfortable with a soft feel. The high waistband sits above the bellybutton and kept everything in place when I moved through a Pilates workout or set out on a dog walk. There's also a drop-in pocket on the back waistband that fits my iPhone 14 in a case. I liked the lack of seams on the legs and found these were comfortable enough to wear all day, although they are still slightly more compressive than other yoga leggings such as the Lululemon Align.
The Zenvy leggings have Nike's Dri-Fit technology, which wicks sweat away and dries quickly, stopping you from feeling soggy at the end of a workout. That said, when wearing these for a run, I was left with sweat patches. The pair I tested were a dusty pink color, so if you're self-conscious about sweat, I'd opt for a darker shade. They also don't come with a drawcord to allow you to pull the leggings tight around your waist, so I'd save these for low-impact workouts.
Bottom line: If you want a pair of leggings you can wear for Pilates, cycling or hiking, the Zenvy leggings are a lightweight, comfortable option. If you're serious about running, you might prefer something that's more sweat-wicking, with extra storage options and a drawcord waist.
---
Made from the same Infinasoft fabric as the Zenvy leggings, the Nike Universa leggings offer medium support and feel slightly more compressive on the move. These are designed to be sweat-wicking and squat-proof enough for a run, weights session or HIIT class. The leggings are priced at $110/£90 and you can choose between mid-rise and high waist styles, with a wide waistband that's designed to stay put as you move.
I tested these leggings in the mid-rise length in a black colorway. Personally, I prefer a higher waistband, but it's nice that Nike gives you the option to choose between the two. These had the same smooth, soft feel as the Zenvy, and had a good amount of stretch. There are two drop-in pockets on the leg, big enough for my phone and a gel or two.
On the run, I found these leggings comfortable. They hugged my legs as I moved, and the waistband stayed put, despite the lack of drawstring. The leggings come with Nike's Dri-Fit technology, and I didn't feel too soggy, despite testing these in a heatwave. They performed well in the gym, offering a good amount of stretch, and I was able to lunge, squat and row without feeling like my leggings were digging in. They're a bit too body-hugging for me to wear them to the office or on a dog walk, but for most high-impact activities, these are a good choice.
The leggings are available in sizes XS-2XL. They come in full length, a ⅞ length, a cropped length that sits mid-calf, a capri length that sits just below the knee, and a 20cm biker short.
Bottom line: If you like the look of Nike's higher-end leggings, this is the best option in my opinion because they are extremely versatile. You could definitely wear them for running and in the gym without any issue, and they look extremely flattering.
---
Last up from Nike's latest collection is the Nike Go, a firm-support legging best suited to high-impact activity. They're made from Nike's Infalock fabric, which is compressive and supportive, so if you prefer a relaxed fit that you can wear all day these aren't for you. But if you're on the hunt for a pair of durable leggings to see you through your next marathon, these are worth a look.
The Nike Go leggings have an internal drawcord to pull the waistband tight. The drawcord has a little toggle, which I appreciated because it made it easy to adjust the tightness without having to knot the drawcord. There are six different pockets—two side pockets on the legs, big enough for a phone and a couple of gels, a zipped pocket on the front of one of the leg pockets, and three drop-in pockets on the waistband. You can easily leave your running belt at home and head out for a training session wearing these.
The compressive fit won't be for everyone, but I found it easy to pick up the pace and move freely, with no bunching or baggy areas. The leggings are sweat-wicking, but I tested them in both the aqua and light thistle colorway and after a particularly sweaty session, I had noticeable patches on the aqua leggings. If you're self-conscious, I'd advise wearing a darker color.
These leggings come in sizes XS-4XL, and are priced at $120/£90. They are available in a high-rise style, which sits above the bellybutton, and mid-rise, which sits lower on the waist. They come in full length, a ⅞ length, and an 8in biker short. Nike recommends sizing up because these come up small.
Bottom line: If you're looking for a pair of Nike running leggings for race day, these are the best choice. They're supportive, allow unrestricted movement and have plenty of pockets for storage.
---
When Nike released its One leggings, they were designed to be versatile leggings that you could grab for every workout. At $60/£45 these are a lot more affordable than the newer leggings in Nike's collection and are seriously comfortable. With a high waistband and a silky feel, I've worn these for yoga, Pilates, dog walks and even long-haul flights with no issue. They have a body-hugging feel without being too restrictive and are among the most comfortable leggings I own.
While traveling, I have worn these leggings for the odd run and have not had any problems. The Dri-Fit technology allows the leggings to wick sweat away, and the high waistband is comfortable as you move. That said, because of the lack of drawcord and the fact there's only a small hidden pocket in the waistband, these wouldn't be my go-to for serious training.
The leggings are squat-proof, so you can confidently wear these for sessions in the gym or when practicing yoga without worrying. They come in sizes XS-2XL in a wide range of colors and patterns and are also available in Nike's plus size and maternity ranges. The leggings come in a high-rise and mid-rise waist, in full length, ⅞ length, a capri length that sits just below the knee, and a 20cm biker short.
Bottom line: These are seriously comfortable and some of my favorite Nike leggings ever. They'll get you around the odd run, but if you're doing serious training, you might prefer sportswear with more storage.
---
The Nike Pro leggings have been a staple from Nike for the past decade—I'm sure I wore a pair of Nike Pro shorts in my PE lessons at school, and not much has changed since. These are reliable and comfortable and made from a soft, stretchy fabric. At $50/£40 they are far more affordable than other running leggings on test and are instantly recognizable by the elasticated, branded waistband. They're also sweat-wicking, fast-drying and squat-proof enough to wear for strength training sessions in the gym, as well as runs on the treadmill and track.
These leggings are a good all-rounder, but they aren't perfect. I would definitely chuck these on for a treadmill session, or a quick 5K around the park, but if I was heading out for more serious training, I'd want a drawcord waistband to stop them from slipping or rubbing on my waist. I'd also want at least one pocket for a set of keys if nothing else, but these don't have any.
The leggings are available in a high-rise and mid-rise waist, in a full-length, ⅞ length, and cropped leg length. Most are available in sizes XS-2XL, and some have mesh detailing on the back for extra ventilation.
Bottom line: These are versatile leggings that are a great pick if you're on a tight budget. They suit short training sessions but if you're heading out for longer runs, you might prefer something with pockets and a drawcord.
---
Before Nike launched the Nike Go leggings, these were my top pick for running sessions. They sit tight while you're running, and come with enough storage to allow you to leave your running belt at home. They also don't bobble or fade after washing.
The leggings have a compressive fit that's designed to hug your legs as you move, allowing you to pick up the pace, and there's an internal drawcord so you can pull the waistband tight for a secure fit. There are mesh panels on the back of the knee to allow extra ventilation and a reflective Nike symbol on the leg. Storage-wise, there's a zipped pocket on the back which is big enough for an iPhone (although it's a squeeze), and a small pocket on the right leg with space for your keys.
When running, these leggings are comfortable and breathable, and they are squat-proof enough for the gym. Like Nike's other compressive leggings, these aren't the most comfortable to sit around in after your workout, but if you're buying a pair of running leggings just to run in, they're a good choice.
The leggings are available in sizes XS-2XL, as well as plus sizes. They only come in a mid-rise waist which sits on or below the bellybutton, in full length, ⅞ or cropped leg length.
Bottom line: These are affordable, comfortable running leggings that will last. They feel thick and supportive on the run, and if you don't mind not having a high waistband, they're a good choice.
Which Nike Leggings Are Best For Running?
The best Nike leggings for running depends on how far you plan to go, and how much you're willing to spend. If money is no object, the Nike Go leggings have an abundance of pockets, which means you can run without a belt or vest and carry everything you need. They're lightweight, compressive and comfortable. That said, if you're looking for a pair of leggings you can run in but also wear to the gym or about town, you'll get more out of the slightly less compressive Universa leggings, which have fewer pockets but are more versatile.
If you're on a budget, the Nike Fast leggings tick all the same boxes as the Nike Go, and while they're not as soft to the touch or as technical, they'll get you through a marathon training cycle without any bother. Finally, if you're looking for a pair of leggings for everyday wear and perhaps the odd run, I'd opt for the versatile and comfortable Nike One leggings.
Sign up for workout ideas, training advice, reviews of the latest gear and more.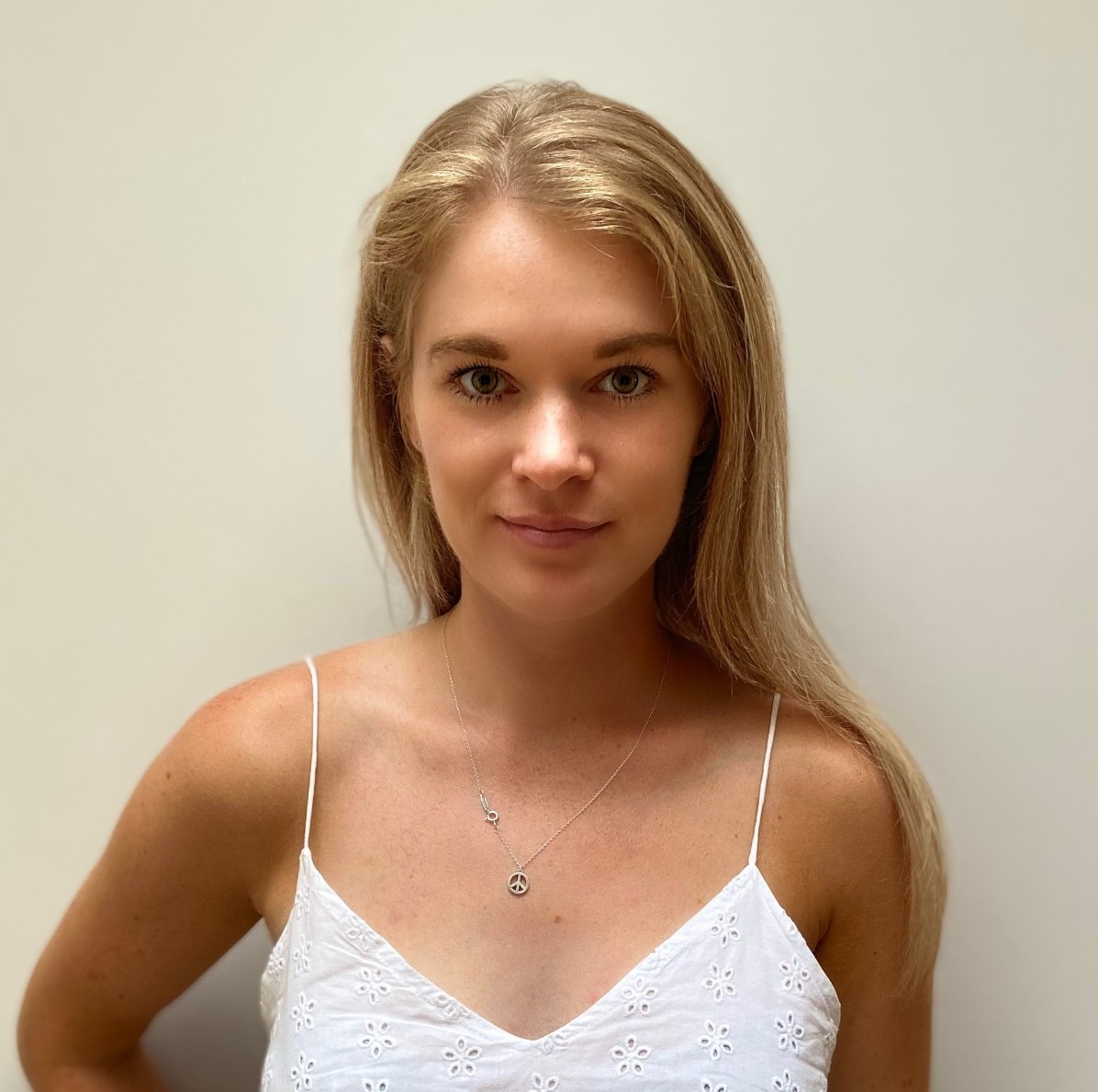 Jane McGuire is a fitness enthusiast, with years of experience writing about running shoes, sports bras, and just about everything in between. When she's not training for a marathon, you'll find her walking the dog (and documenting it on Instagram).