Oakley Has Launched Its First Running Sunglasses And I Am Excited
The Oakley Corridor and Actuator sunglasses are both designed specifically for runners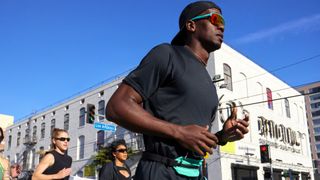 (Image credit: Oakley)
Oakley makes some of the best running sunglasses. I can attest to that as an obsessive runner who has worn many different sets of Oakley sunnies the past few years.
However, Oakley has never made a set of sunglasses that are designed specifically for runners. That changes today with the launch of the Corridor and Actuator glasses.
The Corridor is the sportier set, with a large frame that has just a rim on the top, while the Actuator sunglasses are built for casual runs and have a more stylish, universal design to be worn outside of your training as well.
Both glasses use Oakley's Prizm lenses and Unobtainium nose-pads to create a secure fit, aided by the ear socks on the Corridor glasses and the adjustable temples on the Actuators.
There are a variety of frames and lenses to choose from for both sets. The range of Prizm lenses includes options to suit different sports, environments and weather conditions, and the Corridor sunglasses can use the Prizm Low Light lenses for runs in, well, low light.
The Prizm lenses are the main reason I have enjoyed using Oakley sunglasses for my runs in recent years. When trail running in dappled light under tree cover, the Prizm lenses provide contrast that helps to highlight roots, rocks and other trip hazards. There are also lenses for the road, water sports, skiing and golf among other activities and environments.
Up until now my go-to Oakley sunnies for running have been the EVZero Blades, which have never let me down, but now I know they're not running-specific, they're going straight in the bin.
"Never in our history have we created something special with runners and for runners. And for that, runners of this world, we apologise," says Oakley's Caio Amato.
"We spent countless hours [talking] with runners and then we built on almost half a century of innovation to develop new sunglasses that – we hope – soon all runners will call their new running essentials. It was incredibly fun outsmarting the sun together with that community."
Apology accepted (always accept apologies from someone who can outsmart the sun). The new sunglasses will be available from 2nd March in the UK. The Corridor glasses cost from £142 and the Actuator from £134.
Sign up for workout ideas, training advice, reviews of the latest gear and more.