The Adidas Ultraboost Light Isn't That Light, But That's Not Its Biggest Problem
The new Ultraboost Light is a better running shoe than the Ultraboost 22, but other brands offer more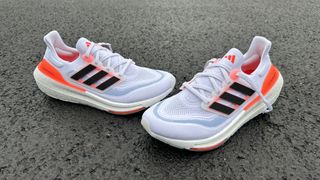 (Image credit: Nick Harris-Fry/Future)
For a long time I liked the Adidas Ultraboost more than most of the serious runners I know did. It was a durable, comfortable shoe, and I used it extensively when training for my first sub-3hr marathon.
I rated it as one of the best cushioned shoes, and the fact it was relatively stylish for a running shoe was a bonus. However, the Ultraboost line started to go downhill for me with the Ultraboost 19 and 20, which added significant weight, and then the Ultraboost 21 and 22 got even heavier (and uglier).
Being heavy isn't always a huge problem with a cushioned shoe, but the Ultraboost became so heavy it wasn't enjoyable even to use for easy runs. The launch of the Ultraboost Light suggests Adidas has recognised that: the new Boost midsole is 30% lighter than standard Boost.
I've been out for one run in the Ultraboost Light, and while it is noticeably lighter than the Ultraboost 22, it's still not that light at 11oz/314g in my UK size 9. However, that's not a bad weight for a cushioned shoe like this. It's almost the same weight as the Nike Invincible 3, New Balance Fresh Foam X More v4 and Asics Gel-Nimbus 25 in my size. Although to be fair, those shoes don't have the word "Light" in their name.
While the weight is the same, it's the other differences between these max-cushioned shoes that are the bigger problem for the Ultraboost Light. The three mentioned above all have more interesting and enjoyable rides for cushioned shoes.
The Invincible 3 is a little wobbly and not to everyone's taste, but much bouncier and softer than the Ultraboost Light. The More v4 is highly rockered and has a smooth and stable ride that protects the legs well, while the Gel-Nimbus 25 is comfortable and lively underfoot, even when rolling through easy miles.
In contrast the Ultraboost Light feels dull. It's not a bad ride – it's pretty smooth and protective – but it's less comfortable and feels a little dated compared with what other brands are doing with the foams in their max-cushioned shoes.
I have a lot more testing to do before delivering a properly informed verdict on the Ultraboost Light to add to our collection of Adidas Ultraboost reviews. But so far, while it is an improvement on the other shoes Adidas offers in the cushioned category, it doesn't seem to have made up much ground on the leading pack.
Sign up for workout ideas, training advice, reviews of the latest gear and more.