Tips For Pacing The Royal Parks Half Marathon
Get ready for race day with this expert advice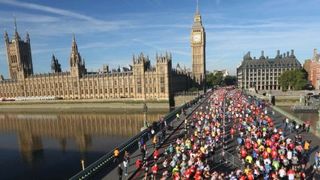 (Image credit: Unknown)
The key to a strong race at any distance is good, consistent training – but even if you have logged months of quality preparation, it's still possible for your big day to go awry if you don't pace your race sensibly.
If you've entered the Royal Parks Half Marathon on 14th October, you'll probably have been told several times not to go out too fast. It's the most clichéd piece of running advice going, but no less correct for that fact.
Moving beyond that basic advice you might also have been told that running a negative split is a wise race strategy. For more information on what that means, plus other key pacing tips, we spoke to ON Running Coach Andy Hobdell.
At what point of the race should you start to crank up your speed?
So, you've run a sensible race, you've hit the first five and ten kilometre targets, you've just gone past halfway and you're feeling good. This is the point not to get carried away but assess where you are in the race. If you're running with a good group of people and are working well together, settle in for the next five kilometres. If the group starts to slow then push on.
I would then say the 15km point is a good position to start testing yourself with the pace and pushing a little harder. You've covered three-quarters of the race and are now into the push for the finish. You will have run many 5K runs in training, so having around 5K to go is a good point mentally to press for the finish.
If you have started out too fast and feel tired at the 10K mark or earlier, what should your strategy be for getting through the rest of the race?
Try to relax and ease back on the pace. Think about your breathing and allow yourself to recover. Break down the final part of the race, one kilometre at a time. Don't become obsessed with the pace – focus more on how your body is feeling.
With all the work you have put into preparing for the race, the fitness is there. You just have to let your body recover and then you'll be able to push for the finish using a more sensible rhythm.
Sign up for workout ideas, training advice, reviews of the latest gear and more.