You Probably Want To Avoid Exercising Outside In London Today, Because Pollution
London Mayor Sadiq Khan has issued the first "very high" pollution alert of his tenure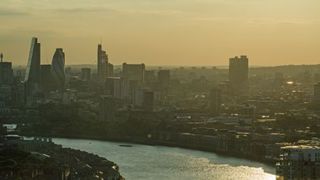 (Image credit: unknown)
Air pollution is too often considered something that happens to other people in faraway countries, but London's air is now so filthy that Mayor Sadiq Khan has issued his first "very high" alert.
Warnings will be posted on the Transport for London (TfL) website, at bus stops, by the roadside and in Tube stations under the system set up by Khan.
The air quality index is a scale that runs from 1 to 10, with 10 denoting the highest levels of pollution. Levels of pollution in central London, Camden and Bushy Park in Richmond have hit 10 at the time of writing. Advice on the TfL website for the general population recommends "[reducing] physical exertion, particularly outdoors, especially if there are symptoms such as cough or sore throat". At-risk individuals "should avoid strenuous physical activity".
"This is the highest level of alert and everyone – from the most vulnerable to the physically fit – may need to take precautions to protect themselves from the filthy air," said Khan.
Cold and settled weather has contributed to the high levels of air pollution, with levels of dangerous PM10 particulate pollution rising to more than double the permitted hourly levels.
If you live or work in London, there are several ways to keep tabs on the levels of air pollution in your area. Both the Transport for London and Mayor of London websites have updates, and you can also opt to receive text or email alerts from the airTEXT website and app.
You can also get detailed info on air pollution in your area on the Department for Environment, Food & Rural Affairs website.
Some areas of London breached the annual limit for air pollution just five days into 2017. By law, hourly pollution levels of nitrogen dioxide should not exceed 200 micrograms per cubic metre (µg/m3) more than 18 times in an entire year. This limit was broken on Brixton Road in Lambeth on 5th January.
Stats from the Mayor's office suggest that as many as 9,400 premature deaths are caused by air pollution in London each year, and that there are 500,000 people aged under 19 who live in areas of the capital that exceed EU limits.
Sign up for workout ideas, training advice, reviews of the latest gear and more.