This Map Shows All The Cancer-Related Services Near You
Discover cancer services in your local area with Dimbleby Cancer Care's map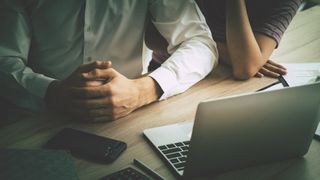 (Image credit: Unknown)
There are thousands of cancer support services available in the UK that address a wide range of areas, including emotional support and practical help with day-to-day tasks as well as medical aid. Unfortunately, large numbers of people are entirely unaware of them.
According to a recent YouGov survey 51% of people don't know that there are emotional support services available for people with cancer, even though 49% of people diagnosed with the disease suffer from some kind of mental health problem. Men in particular were unaware that services like support groups and therapy are available, with only 36% of men knowing they were on offer after a cancer diagnosis.
To help people find the support they need, the charity Dimbleby Cancer Care has created the cancer care map, where you can enter your postcode and discover the range of services near you.
Frazer Scott, who was diagnosed with testicular cancer in 2014, found a mindfulness course by contacting Dimbleby Cancer Care. This taught him techniques that helped him deal with panic attacks he had started suffering after chemotherapy.
See related
It's exactly these kind of services that people might not expect to be available, but can make a significant difference to their experience of having cancer. You can find complementary therapies like massage and reflexology alongside places to get advice on your diet and exercise.
There are also counselling, psychotherapy, support groups and other emotional support services listed on the map, as well as practical help like advice on how to get financial aid. The range of services is vast and you could find help in places you'd never have thought of before.
The map was created when Jonathan Dimbleby, chair of Dimbleby Cancer Care, realised how hard it was to find local services.
"Five years ago, a friend asked me to find cancer services for his wife," says Dimbleby. "I realised very quickly that this was frighteningly difficult to do, and that there was no comprehensive resource to help me. At Dimbleby Cancer Care, we wanted to create our own site to make sure that nobody facing cancer goes without the care they need; all you would need is an internet connection and a postcode."
You can find the map at cancercaremap.org, and if you know of a service that should be added to it you can get in touch via the website.
Sign up for workout ideas, training advice, reviews of the latest gear and more.