Help Someone With A Long-Term Health Condition – Tell Them About This Campaign
Sport England's new campaign highlights the power of exercise for people with conditions like diabetes and cancer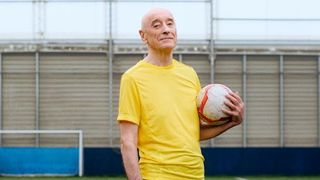 (Image credit: Unknown)
One in four people in England live with a long-term health condition like diabetes, cancer, Parkinson's or arthritis. That's 15 million people, and the figure is expected to rise to 18 million by 2025.
Regular exercise can help manage the symptoms of these conditions, as well as improving physical and mental health, but it's harder for people with long-term health problems to be active. Research has found that 69% of people with long-term health conditions would like to be more active, but they are twice as likely to be inactive as people without these problems.
Sport England's new campaign We Are Undefeatable is all about trying to remove the barriers to exercise, inspiring them to get active and providing practical advice to help them start.
The variety of ways that exercise can help people with long-term health conditions is shown by a series of case studies on the We Are Undefeatable website. Rebecca Fowler, who has multiple sclerosis and depression, found that joining a dance group improved her physical and mental wellbeing.
"Dancing was always something I had enjoyed, but I never had lessons," says Fowler. "I quickly fell in love with it and have been dancing for just over two years. My weekly dance classes have given me a new friendship group and I am now part of a strong community of people living with long-term conditions and disabilities who are united by their love of dance. It has been a wonderful and unexpected benefit of being involved in a dance group."
See related
Chris Bright has lived with type 1 diabetes for most of his life, but that hasn't stopped him from playing football and futsal at a high level. Fowler also started the Diabetes Football Community, a not-for-profit organisation designed to help people with type 1 diabetes play sport.
"They do say exercise is the most powerful medication for us all, but for me it has an effect which can be so useful to managing Type 1," says Fowler. "I can use my knowledge of exercise to bring my glucose levels down, such as going for a run or doing some football training. Because I'm very active, my insulin sensitivity is pretty high, and therefore I don't use a lot of medication to manage my conditions."
Tony Linforth-Hall suffers from uncommon cancer Hodgkin lymphoma and finds that walking football helps him manage his condition.
"Remaining as fit as possible enables me to cope with treatment," says Linforth-Hall. "The social side of a group activity such as walking football is profoundly valuable for my morale."
You can find more case studies as well as advice on how to get active on the We Are Undefeatable website.
Sign up for workout ideas, training advice, reviews of the latest gear and more.