Make One Small Lifestyle Change To Reduce Your Risk Of Stroke
You don't have to overhaul your entire life to get healthier, get started with one little change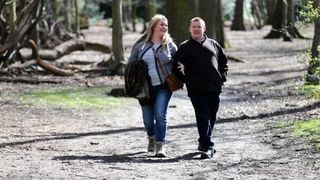 (Image credit: Unknown)
Photograph: World Obesity Forum
More than one in five (21%) adults in the UK will have a stroke in their lifetime, and it's the fourth biggest cause of death in the UK. That's a lot of people, and new research from charity The Stroke Association suggests that one reason behind the prevalence is a lack of knowledge about the causes of strokes.
For example, 47% of those surveyed didn't know that high blood pressure was a risk factor for stroke, 71% didn't know that being overweight puts you at greater risk, and 87% didn't know that diet is another top risk factor. All things within our control, then, and in fact almost nine out of 10 (89%) of strokes are caused by factors that you can address with your lifestyle – whether that's eating more healthily, exercising more, cutting down on alcohol or quitting smoking.
With that in mind, The Stroke Association launched a new campaign on Stroke Prevention Day 2021 (14th January) to encourage people to make one small lifestyle change to reduce their risk of stroke.
This is well-timed, just as many people will start to tire of an all-encompassing or over-ambitious New Year health kick. We like that the campaign is not asking for a whole raft of changes to your lifestyle at once, which mostly makes a new regime too hard to sustain. Focusing on one area instead can make a lasting change more achievable.
You'll find several great suggestions on The Stroke Association website for what to change over the following three months. There are also inspiring real-life stories that may help give you the confidence to give it a go. If you sign up and make a pledge to change something, you'll get emails with tips to help you keep going – and it's totally free to do.
See related
Admittedly, some of the suggested changes are not all that small, such as stopping smoking or trying to cut out all alcohol for three months. However, if you're doing Dry January you'll have a headstart on avoiding the booze, so you could take it from there – and some are smaller, like swapping unhealthy snacks for healthier ones, or walking for 10 minutes a day.
You can pick the pledge that suits your situation best, and then focus your efforts on nailing it for the next three months. After that it will hopefully have become a healthy habit for life, and you'll be ready to make another small change.
Sign up for workout ideas, training advice, reviews of the latest gear and more.