A Killer Kimchi Recipe from YO! Sushi's Head Chef
Get a raft of health benefits from the Korean staple with this simple kimchi recipe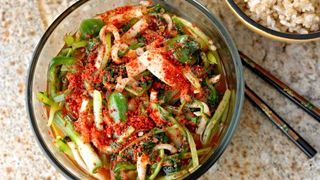 (Image credit: unknown)
In Korea, kimchi is king, with the fermented side dish served at almost every meal. Despite this popularity, and indeed the impact of other Asian cuisine in the UK, it is yet to make a big impression on British shores. Keen to get the lowdown on why it's worth considering adding kimchi to your dietary routine, Coach spoke to Mike Lewis, head chef at YO! Sushi.
What is kimchi?
Kimchi is a traditional Korean side dish made of fermented vegetables with a variety of seasonings. It is usually based on cabbage; however radish, cucumber and spring onions are also quite common.
RECOMMENDED: Why You Should be Eating Fermented Foods
Kimchi helps to promote the digestion process and fight infection through the probiotics (lactobacillus) created as a result of the fermentation process. Kimchi is also packed with dietary fibre, which makes us feel fuller while being very low in calories. What's more, it is rich in both vitamins and antioxidants, which help to slow down the ageing process, lower cholesterol levels and fight off various cancer types.
Mike's Simple Kimchi Recipe
Ingredients
1 head of Chinese leaf cabbage (roughly 600g)
1 tbsp fine salt
25g Korean red pepper powder
50g anchovy-based fish sauce
50ml water
1 tbsp ginger, grated
1 tbsp garlic, grated
4 spring onions, finely sliced
Method
Slice the Chinese leaf into 1cm rounds and separate the leaves. Toss with the salt until evenly covered, and leave to sit at room temperature for four hours.
Rinse the cabbage to wash away the salt, and drain.
Mix the red pepper powder with the water and fish sauce to make a runny paste. Pour over the cabbage.
Add the ginger, garlic and spring onions. Mix well. The paste should coat all the cabbage.
Divide the mixture into glass jars, leaving a couple of centimetres of space at the top.
Press down well to remove all the air bubbles.
Screw the lids on tightly, and leave for a day, and then move to the refrigerator. Kimchi is best after fermenting for five to seven days.
RECOMMENDED: How to Make Sushi at Home
Once your home-made efforts spark a love of kimchi that cannot be sated, try YO! Sushi's new Kimchi Ika salad, which features poached squid with a variety of quick pickled kimchi chilli vegetables. yosushi.com
Sign up for workout ideas, training advice, reviews of the latest gear and more.