Three Sisters Soup: A Warming, Nutritious Recipe For Winter
A hearty veg-filled treat from Canada's First Nations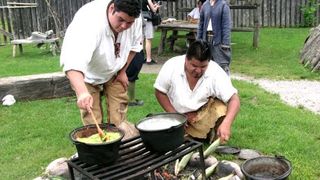 (Image credit: Unknown)
There's no better remedy for a frosty day than a lunchtime soup, and whipping up a sizeable batch of bouillon at the weekend is a great way to make eating healthily easy. Coach recently spent some time in Ontario, where as well as the stunning scenery and limitless availability of maple syrup, one thing that stood out was the hearty delight of Three Sisters soup – a First Nations (Canada's indigenous peoples) staple that has been eaten for thousands of years.
The Three Sisters Squash, beans and corn are the three main crops of many indigenous groups in North America, and are named the Three Sisters as they all benefit each other. The corn provides natural poles for the beans to climb, which in turn stabilise the corn and make it less vulnerable to wind. The beans also restore nitrogen to the soil, while the squash, which spreads across the ground, blocks sunlight from the soil, so prevents weeds from growing. The squash also stops moisture evaporating from the soil, helping all three to survive in dry years.
A simple yet deliciously effective combo of squash, corn and green beans, Three Sisters soup is a fine lunch option for even the most culinarily challenged. Coach enlisted the experts at Aboriginal Experiences in Ottawa for a recipe.
Three Sisters Soup Recipe
For six to eight servings:
10 cups water, chicken or vegetable broth
8 cups butternut squash – in one-inch pieces
8 cups sweetcorn – drain liquid if tinned
8 cups green beans – in one-inch pieces
Add all of the above into a large pot and simmer over a low-medium heat for approximately 45 minutes. If you used water as the base, add vegetable stock to taste. Then add salt and pepper.
RECOMMENDED: Broccoli And Stilton Soup Recipe
Fried Bannock (The Unofficial Fourth Sister)
For six to eight servings:
4 cups of flour
3 tbsp baking powder
warm water, oil
Mix dry ingredients and add enough water to make dough. Roll out dough. Heat oil in frying pan – it's ready for cooking when you dust flour into the oil and it bubbles. Cut dough into desired size pieces, about half an inch thick, put them into the hot oil. Cook both sides until golden brown.
Sign up for workout ideas, training advice, reviews of the latest gear and more.