Spice Up Your Winter Lunches With This Tom Kaa Gyoza Soup Recipe
It certainly beats cracking open another tin of tomato soup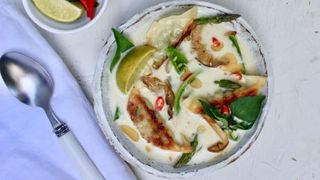 (Image credit: Unknown)
Just as porridge becomes the best breakfast option when the weather turns colder, soup comes into its own when winter arrives. Office kitchens ring with a chorus of pinging microwaves as people move from summer fare like sandwiches and salads to hearty bowls of warming soup.
However, it can become a little monotonous, especially if you rely on the range in your local supermarket. You may well have a few favourites you go back to time and again, but eventually you get bored, and start getting tempted by riskier picks like Cullen skink. Trust us when we say no-one – not you and certainly not your colleagues – is going to enjoy the day you pick up a can of Cullen skink.
You can avoid that day – or put it off, at least – by making your own soup, starting with this top-notch tom kaa gyoza soup recipe from Itsu, which crams salty, spicy, sour and creamy flavours into one broth. There are some ingredients which you may not have to hand, but don't be afraid to make a few switches or omissions – we won't tell anyone. Unless you turn the recipe into a terrible soup, in which case we'll tell everyone.
RECOMMENDED: Gyoza And Courgetti Salad Recipe
Tom Kaa Gyoza Soup Recipe
Ingredients (One Serving)
Thumb-sized piece of galangal or ginger, finely sliced
2 garlic cloves, finely sliced
2 small red chillies, finely sliced
1 lemongrass stalk
400ml coconut milk
1 fish stock cube
1tbsp fish sauce
1tsp palm sugar
2 kaffir lime leaves
Small handful of wild mushrooms
Small handful of sugar snap peas
Small handful of asparagus tips
3 Itsu king prawn gyoza
Thai basil, to serve
Sesame oil, to serve
Lime, to serve
Method
Fry your galangal or ginger, garlic and chilli in a wok for a couple of minutes in a tablespoon of coconut oil.
Bash the lemongrass stalk, then add it to the wok along with the coconut milk, fish stock cube, fish sauce, palm sugar and lime leaves. Bring to the boil and then simmer gently for ten to 15 minutes. Add up to 100ml of water if it's too thick for your liking.
In the last three or four minutes of cooking, add the wild mushrooms, sugar snap peas, asparagus tips and gyoza. You can pan-fry your gyoza first if you like them a little crunchy.
Serve with torn Thai basil, a squeeze of lime and a drizzle of sesame oil.
Sign up for workout ideas, training advice, reviews of the latest gear and more.