The Perfect Pre-Marathon Meal For People Who Hate Pasta
This Michel Roux Jr recipe opts for potatoes instead, with honey-and-mustard haddock the star of the show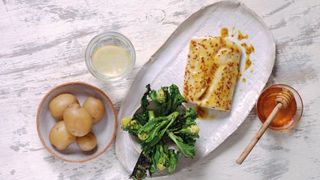 (Image credit: Unknown)
Being able to scoff down huge plates of pasta in the days leading up to the marathon is, for many people, one of the true highlights of the event (if not really how you should carb-load), but you don't have to base your fuelling for the race solely around carbohydrates, as this haddock recipe from Michelin-starred chef Michel Roux Jr shows.
The fish is the main attraction of the dish, with a honey mustard glaze that's oozing with flavour. And on the side, you can stack up as many new potatoes as you want to help top up those precious glycogen reserves for race day.
"I've run over 20 marathons and have had to adapt my diet during the training process," says Roux Jr, who is working with the Norwegian Seafood Council. "I tend to avoid sugary and over-processed snacks and instead stock up on certain foods ahead of race day. This includes white fish such as cod and haddock, teamed with starchy carbohydrates. Meals using these ingredients are quick and easy to prepare, and mixing up spices and flavours keeps it interesting.
"Honey is a go-to marathon fuel and partners perfectly with Dijon and wholegrain mustards to give a lovely coating to white fish. Boiled new potatoes and grilled tenderstem broccoli act as the perfect accompaniment to this dish."
Ingredients (Serves Two)
2 large skin-on haddock portions, "preferably from Norway, as it's sustainable and exceptional quality" says Roux Jr
2tbsp clear honey
1tbsp Dijon mustard
1tbsp wholegrain mustard
Olive oil
New potatoes and tenderstem broccoli to serve
See related
Method
Position the haddock skin side down on a wire rack.
Mix the honey and mustard together, then use a pastry brush to apply a thin coating to the haddock, keeping more than half the mixture in reserve.
Chill in the fridge for 20 minutes. Then repeat the process of spreading on the honey mustard mix, but this time spread it on thickly.
Place the fish under a hot grill, about 20cm below the elements. Cook for 12 minutes until golden brown in colour.
Carefully remove from the rack and serve immediately with boiled potatoes and grilled broccoli or steamed green vegetables. Drizzle with a little olive oil to finish.
Sign up for workout ideas, training advice, reviews of the latest gear and more.