Celebrate World Egg Day With This Baked Eggs And Pulled Chicken Recipe
But which comes first, the pulled chicken or the baked eggs?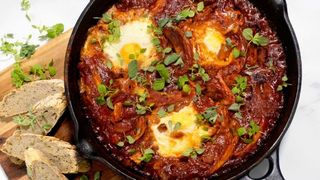 (Image credit: unknown)
Yes there's a World Egg Day and in 2018 it falls on Friday 12th October. There's a day for everything, so why should eggs be any different? In fact 12th October is more than just World Egg Day, it's also Old Farmer Day. And it's part of Black Cat Awareness Month. It's a big day all round, unless you're a young farmer or a tabby cat, in which case WAIT YOUR TURN.
Anyway, you can mark the grand occasion by making this terrific baked eggs with pulled chicken recipe created by the team at meal delivery service Fresh Fitness Food. Fresh Fitness Food offer meal packages tailored to your fitness goals, whether that's to lose weight, bulk up or even prepare for a specific competition or event, and there's a purely plant-based menu available as well.
Aside from that plant-based option, this baked eggs recipe is available across all the Fresh Fitness Food meal plans, so you can be sure it's a healthy meal worth whipping up even when it's not World Egg Day.
Ingredients (serves four)
4 eggs
2 cooked chicken breasts (pulled apart)
1 red pepper
1 yellow pepper
2 red onions
2 cloves garlic
1tsp paprika
1tsp cumin powder
1tsp dried oregano
25g tomato paste
1 can chopped tomatoes
See related
Method
Dice the onion, slice the red peppers and finely grate the garlic.
Place a large cast-iron skillet on the heat and add a little oil. Add the onion, peppers and garlic.
Once the onion begins to soften, add the spices and herbs, stirring to coat all the veg.
Preheat the oven to 170°C.
Once all the veg begins to colour, add the tomato paste and mix well.
Cook for four to five minutes, then add the chopped tomatoes. Cook for a further 20 minutes on a low heat.
Add the pulled chicken and mix well.
Make four wells in the top of the dish and crack the eggs into them.
Place the pan into the preheated oven and cook for 20-30 minutes or until the egg white is cooked and the egg yolk is still runny.
Remove from the oven and serve.
Sign up for workout ideas, training advice, reviews of the latest gear and more.