Joe Wicks's Lentil Bolognese Recipe Is An Absolute Winner
It's just one of the easy, healthy and delicious vegetarian recipes you'll find in the Body Coach's new Veggie Lean In 15 book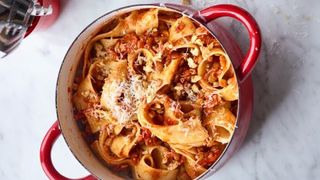 (Image credit: Unknown)
As people across the nation attempt to get to grips with their New Year's resolution to eat more healthily, one beaming face will be popping up in kitchens everywhere – that of fitness phenomenon Joe Wicks. The man known as the Body Coach has sold a mind-boggling amount of books in recent years, all of which are packed full of easy, tasty and speedy meals that are ideal for people trying to make their diet healthier.
The kitchens of vegetarians, though, are probably Wicks-free, because although his books have always contained a some meat-free meals, there hasn't been one entirely dedicated to veggies – until now.
Veggie Lean In 15 takes all the classic features of a Wicks book – workouts, lifestyle advice and fast, easy recipes – but removes the meat from equation. While the focus is on quick meals, Veggie Lean In 15 also includes some longer recipes for special occasions or just when you have a bit more time to devote to your cooking. This lentil bolognese is an example of the latter, though it still doesn't require hours in the kitchen to make. It's also a great option for batch cookers who want a load of leftovers to use as a healthy option when time is really tight. If you're vegan, or just doing Veganuary, a few tweaks make it suitable – just replace the grated cheese with nutritional yeast (or skip it altogether) and buy vegan red wine, because surprisingly most varieties aren't.
Ingredients (serves two)
2tbsp olive oil
1 large onion, finely chopped
2 medium carrots, peeled and chopped into cubes
Salt and pepper
2 cloves garlic, crushed
2 sprigs of rosemary
200g dried green lentils
Glass of red wine
2 400g cans chopped tomatoes
1tbsp tomato purée
60g walnuts
1tbsp balsamic vinegar
Cooked pasta of your choice
Grated cheese, to serve (optional)
See related
Method
Add the oil to a saucepan over a low heat. Tip in the chopped onion and carrots, along with a pinch of salt and pepper. Cook for six minutes until mostly softened. Stir in the garlic and rosemary sprigs. Cook for another minute until it smells fragrant, then tip in the lentils.
Give everything a good stir, then pour in the red wine. When most of the wine has bubbled off, chuck in the chopped tomatoes, then refill one of the cans with water and pour it in. Stir in the tomato purée then leave to cook for 20 minutes, until the sauce has thickened and the lentils are soft.
When the lentils are nearly cooked, toast the walnuts in a dry frying pan over a medium heat until lightly browned and fragrant. Allow to cool, then roughly chop and add them to the pan. Stir in the balsamic vinegar and season your bolognese to taste, removing the rosemary sprigs.
Serve with cooked pasta and loads of grated cheese on top!
Veggie Lean In 15 by Joe Wicks is out now (Bluebird)
Buy from Amazon | £8.49
Sign up for workout ideas, training advice, reviews of the latest gear and more.