Use This Handy Guide To Portion Sizes To Lose Weight
The British Nutrition Foundation has made an easy guide to portion sizes you can stick on your fridge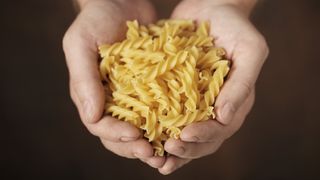 (Image credit: Unknown)
It is a truth universally acknowledged, that a single man or woman in possession of a bag of pasta will pour too much of it in the saucepan and end up with a huge portion of it at dinner time.
Pasta is just one of the foods we all tend to overeat. Meat and cheese are two others. Then on the other end of the scale we have fruit and veg, where we opt for too small a portion (or don't bother at all). To help rectify these portion problems the British Nutrition Foundation (BNF) has created an easy guide to portion sizes.
The guide is based on the NHS's Eatwell guide and indicates how much to have in a serving, based on measures that are easy to picture (like your hand size or spoonfuls) rather than weight, as well as how many portions of each type of food to aim for each day. If you've discovered you've got to lose a few pounds to be a healthy weight, making an effort to follow these recommended portion sizes is by far the most sensible, least drastic way to slim down.
The recommendations unsurprisingly starts with five or more portions of fruit and veg, aiming for a handful of fruit in a serving and three serving spoons of veg, but probably it's the recommended meat, dairy and starchy carb portion sizes that will cause jaws to drop.
When it comes to chicken and beef, for example, you should aim for a portion that's around half the size of your hand, which usefully takes into account the fact that people with larger hands tend to be bigger and need to eat a little more. It's the same for fish fillets, while canned fish is even easier to measure out – one can is one portion. Aim to eat two to three portions of protein-rich foods, which also includes beans and pulses (six tablespoons for a portion) a day.
See related
Meanwhile, the answer to the great pasta conundrum is two handfuls of dried pasta for a portion, or if you've already cooked it, the amount that fits in two hands cupped together. It's the same for rice, and if you opt for a baked potato instead then one the size of your fist will do it. Shoot for three to four portions of starchy carbs a day, remembering that wholegrain varieties with more fibre are the better option by far.
Now cheese – the one that really matters to many of us. Put your thumbs together, that's your portion size for cheddar. Looks small doesn't it? Two to three portions of dairy a day is what's recommended, so six thumbs if you decide to get all of that from cheddar.
The BNF has created a one-page guide to portion sizes that you can download from its website and stick on your fridge, if you want a well-placed reminder. There is also a more detailed booklet outlining portion sizes available to download, plus a full list of portion sizes for a range of common foods.
Sign up for workout ideas, training advice, reviews of the latest gear and more.