This Slow-Cooked Beef Stew Recipe Is A Certified Winter Warmer
You can let the slow cooker do all the work with this mouthwatering beef stew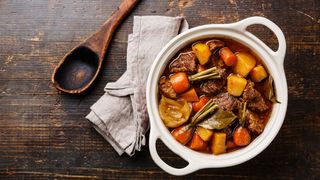 (Image credit: unknown)
Slow cookers really come into their own during the colder months, when we turn to warming stews and soups to ward off the chill in the air.
This beef stew recipe comes from the TerriAnn 123 Diet Plan, and it's pretty much as simple as they come as long as you have a slow cooker in your kitchen. After 15 minutes of prep and frying the ingredients, flick the switch on your cooker and leave the stew to it, coming back to a winter feast several hours later.
Ingredients (Serves four)
1 onion, chopped
2 celery sticks, finely chopped
2tbsp rapeseed oil
3 carrots, halved lengthways and cut into chunks
2 bay leaves
½ pack thyme
2tbsp tomato purée
2tbsp Worcestershire sauce
2 beef stock cubes or 1 stock pot
900g beef for braising, such as skirt
2tsp cornflour (optional)
½ small bunch parsley, chopped
See related
Method
Fry the onion and celery in one tablespoon of the oil over a low heat until they start to soften – about five minutes. Add the carrots, bay and thyme, and fry for two minutes, then stir in the purée and Worcestershire sauce.
Add 600ml boiling water, stir and tip everything into a slow cooker. Crumble over the stock cubes or add the stock pots and stir, then season with pepper (don't add salt because the stock may be salty).
Clean out the frying pan and fry the beef in the remaining oil in batches until it is well browned, then tip each batch into the slow cooker. Cook on low for eight to ten hours, or on high for four hours.
If you want to thicken the gravy, mix the cornflour with a splash of cold water to make a paste, then stir in 2tbsp of the liquid from the slow cooker. Tip back into the slow cooker, stir and cook for a further 30 minutes on high.
Stir in the parsley and season again to taste. Serve with mash.

Sign up for workout ideas, training advice, reviews of the latest gear and more.