National Vegetarian Week Challenge: Vegetarian Recipes To Help Go Veggie For A Week
This annual event is a great excuse to try a vegetarian diet and these recipes will make sure you enjoy it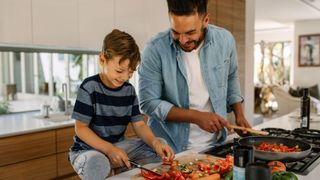 (Image credit: unknown)
The simplest way to take part in National Vegetarian Week, which runs from 10th to 16th May, is to eat a vegetarian diet for those seven days. However, we know that if you're not used to it, switching to a vegetarian diet while still enjoying tasty and healthy meals isn't that easy. So we've picked out a range of great vegetarian recipes below to get you on your way.
Before that, though, let's talk about the Veggie 123 Challenge, which is the new way to take part in National Vegetarian Week this year. The first bit we've already talked about – eat a vegetarian diet for a week. The second part is to nominate two other people to join in the challenge, and the third is to donate £3 to the Vegetarian Society charity, which is currently raising £15,000 to send packages to food banks around the UK.
"I think the Veggie 123 challenge is a great way of getting people to try some new foods and meals that they wouldn't normally eat," says registered nutritionist Anita Bean. "I'm looking forward to experimenting more with tofu, which I don't tend to eat very often. There are some delicious ways of using it in curries, noodle dishes and burgers that I am keen to try."
You can join the Veggie 123 Challenge on the Vegetarian Society website. Now on to the recipes, starting with a great one from Bean herself.
Five Great Vegetarian Recipes
1. Cocoa and almond energy balls
This simple snack is ideal for keen sportspeople looking for some fast fuel before a workout. It's from The Runner's Cookbook, by Anita Bean, which is full of great meal ideas for active people. See the recipe
2. Roasted cauliflower tacos
If you've never been convinced by the merits of roasted cauliflower, we promise this recipe will change your mind. This recipe also explains how to make your own salsa and guacamole – essential life skills in our book. See the recipe
3. Spinach, sweet potato and raisin biriyani
Whip up a batch of this sweet and spicy dish early in the week and you'll have a delicious, hearty meal ready to heat up for a few days afterwards. The biriyani is full of both flavour and healthy ingredients like veg, lentils and raisins, so it will put you well on your way to your five-a-day as well. See the recipe
See related
4. Vegetable skewers
We're hoping for sunny weather during National Vegetarian Week, and if it comes to pass you can take advantage with this great barbecue recipe. These vegetable skewers are super-easy to make, with no real cooking skills required aside from the ability to chop vegetables. See the recipe
5. Herby stew
Just in case the sun doesn't appear, here's a hearty stew recipe from the foodies behind BOSH! It's packed full of a variety of herbs, plus beans, lentils and plenty of veg. It's another one you can make a big batch of, so you'll have quick meals on hand when required. See the recipe
Sign up for workout ideas, training advice, reviews of the latest gear and more.