Volunteer Youth Coaches Need To Know About iCoachKids
The programme provides free resources and a network to help coaches instil a love of movement in young people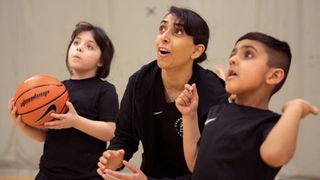 (Image credit: Unknown)
The vast majority of coaches in the UK and European Union are volunteers, and while it speaks volumes about the character of those people who willingly give up their time to help others, it also means that they don't always have official education and/or qualifications, or any support.
iCoachKids (opens in new tab) was set up to fill that gap, and the non-profit programme has recently partnered with Nike (opens in new tab) to expand what it offers coaches, with digital resources and an online community to provide youth coaches with a network and education they can rely on.
"We [iCoachKids and Nike] want to get children moving, and we understand that the coach is a very important part of that environment," says Sergio Lara-Bercial, iCoachKids co-founder.
"We wanted to work together to recruit more coaches and give them a chance to develop the knowledge and skills to be the best possible coach they can be for the children."
Since women and minority ethnic backgrounds are underrepresented in youth coaching, iCoachKids aims to encourage more diversity.
We spoke to Naadrah Hafeez, who is a youth coach and worked on the iCoachKids digital content, about her experience of coaching kids and why people should consider taking it up.
How did you get into coaching?
I've been involved in coaching and teaching throughout my life. My mum's a teacher, so I grew up around that environment. I started taekwondo at the age of 10 and attained my black belt, and then at the age of 14, I started coaching the three- to four-year-olds. In high school, we had something called the Sports Academy, where I'd go around various schools and coach the younger ones there in multi-skill sports. At uni I decided to follow my passion, and I did the undergraduate sports coaching, which I absolutely loved. Then I did my level one boxing qualification.
Why did you decide to coach kids in particular?
Coaching, for me, is all about development. Coaching young ones to develop into who they're meant to be, regardless of what sport it is or what background they're from. It's about the child first and them becoming the best version of themselves.
What's the most rewarding thing about coaching kids?
The growth in all aspects. Whether that's in their mindset, skills or confidence. I've had kids walk through the gym door and they've been very low in confidence, or they've been quite shy and reserved, and after a couple of months you just see them flourish and be the person who they were meant to be. It just needed unlocking.
How does iCoachKids help with the challenges youth coaches face?
Coaching is a selfless career path, especially when it's voluntary and it's coming out of your own time. What I love about the Nike and iCoachKids coaching essentials is the accessibility. Sometimes getting the resources you need is difficult and when you're first starting out in coaching, it can be quite difficult to build a network. This is providing that network and it's allowing people to gain knowledge.
What advice would you give to people thinking about coaching kids?
I would 100% urge them to get into it. The longer you spend thinking about it, the more likely it is you're not going to do it, so just get involved. I think naturally, people who are thinking about coaching, they'll have something within them, something that draws them towards coaching. If you've got that something in your mind, it's there for a reason. Go for it.
What's the best thing about coaching kids compared with adults?
Kids don't overcomplicate things. Kids just naturally will try anything out, and they don't take things too seriously. I think sometimes as adults, we overthink, or we take things way too seriously. The best times, the fun times, and the times that we learn the most, are times where we don't take ourselves seriously and we're just open to learning. I think that's what kids do best.
Sign up for workout ideas, training advice, reviews of the latest gear and more.