Sport Can Help Your Mental Health And These Men Are Running 1,500km To Prove It
Running helped Peter Crocombe process his grief after his father died, so he's now running the length of Great Britain to raise money for mental health charity Sport In Mind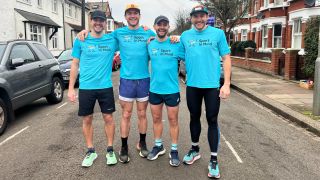 (Image credit: Mental Miles)
Content warning: This article mentions a family member taking their own life.
Peter Crocombe lost his father Paul to suicide in 2020, which was just around the time Peter was getting into running. He found that the sport helped him deal with his grief in the aftermath of his father's death, and he realised he could use running to raise awareness of mental health problems and fundraise for Sport In Mind, a charity that uses exercise to improve the lives of people struggling with their mental health.
After first tackling a 100km run along the Thames and running the London Marathon in 2021 to raise money, Peter and three friends – Gus Barton, Jack Mayhew and Liam Bendell – are approaching the start of their biggest challenge yet. They aim to run from Land's End to John o'Groats (LEJOG) in just seven days and set a world record in the process.
The team of four are being supported with running shoes from Hoka, and will run in shifts of 90 minutes to cover the distance of 1,500km, resting between stages in camper vans following them along the route. You can track them on the Mental Miles website, where you can also donate to Sport In Mind to help the team hit their fundraising target of £20,000.
We spoke to Crocombe ahead of the challenge to learn more about the charity and how running has helped him manage his mental health.
Can you share what happened with your father?
My dad and mum have been happily retired for a few years. We knew dad was slightly ill and struggled a little bit with depression after a successful teaching career where he was an incredible sports coach. But it was a big shock to find out he had taken his own life.
My dad had tried the traditional treatments which the GP prescribed. Counselling didn't quite work and with medication, he found it was just taking him further away from the man that he was. He was incredibly enthusiastic and energetic.
How did that lead you into taking on these running challenges?
At that time, I had started my first little forays into running. I was about to turn 30 and I wanted to get a challenge in the diary, which actually was meant to be two days later. The plan was to run 100km from my home in Brixton up the Thames to Henley.
I decided I would still do this challenge a few weeks later. Two weeks after dad's funeral, we did the run. At that stage we scouted out a charity called Sport In Mind. They put on sports or coaching sessions for those who are really struggling with mental health. The NHS has taken them on as an approved partner and it's now another method for treating people struggling with mental health. We're closing in on about £100,000 raised for Sport In Mind.
Have you found that running helped you with your grief?
Yeah, hugely. I was a big sportsman, but running was always a byproduct of other sports. It became a lot more relevant in my life, and with lockdown as well it was somewhere I could channel a lot of my pain and grief.
I think with other sports I've done, like golf, you can play for three months but you're not necessarily going to be any better. If you run for a month and you're consistent with your training, you are going to be better. It's going to be easier. That process and the time you get on the run to process, I've found it to be quite therapeutic.
What do you see being the hardest part of the upcoming LEJOG run?
This challenge more than anything is going to come down to nutrition. Sleep is also a key part of it, and logistics. We've got three drivers in two camper vans which will be constantly moving, so no stopping for showers!
Can you tell us a bit more about Sport In Mind?
Its main goal is to improve the lives of those who are struggling with mental health, and they do that through the power of sport and exercise. It's a lovely little charity which is growing and they really resonated with what dad was all about. Rather than go for one of the big charities, it was nice for us to really make a big difference.
When life is difficult, Samaritans are here – day or night, 365 days a year. You can call them for free on 116 123, email them at jo@samaritans.org, or visit samaritans.org to find your nearest branch.
Sign up for workout ideas, training advice, reviews of the latest gear and more.