Here's How To Tell If You Should See A Doctor About Your Mental Health
Alarming new research shows people avoid seeing a GP about stress, anxiety or depression for as much as six months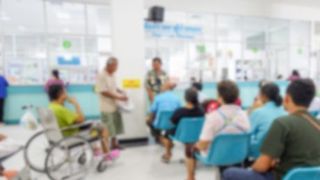 (Image credit: Unknown)
When suffering physical health problems, men will often delay visiting a doctor until they cough up a lung or their leg turns completely black, so it's perhaps not surprising that they show similar reticence about seeing their GP when it comes to their mental health. But new research from insurer Royal London still shows a disconcerting level of unwillingness to seek help for issues like anxiety and depression.
Almost two-thirds (64%) of the men surveyed who have experienced stress, anxiety or depression for longer than a week did not see their doctor about it. Women were more likely to go, but still 54% of them did not seek help in the same situation.
Even with more persistent problems people still hesitated to visit a GP, with only 38% seeing a doctor within a month and 21% saying they waited for more than six months before booking an appointment.
Furthermore, when people are diagnosed with problems, they are uncomfortable about sharing the information with their employer, even though work-related factors are one of the top triggers of mental health issues. According to the research, 59% of workers diagnosed with a mental health problem would not want any evidence of it on their work sick record.
RECOMMENDED: Would You Talk To A Colleague About Your Mental Health?
GPs questioned in the research also said that one in six people ask for their stress, anxiety or depression issues to be concealed when the doctor writes a sick note for their employer.
These are all alarming stats, but do little to help people open up about their problems, so here's some practical advice about seeking help, courtesy of mental health charity Mind.
Seek help if you…
Are finding it difficult to cope with your thoughts and feelings.
Find that negative thoughts and feelings are having an impact on your day-to-day life.
Want to find out about available support.
RECOMMENDED: 10 Symptoms Of Stress You Shouldn't Ignore
Who should you get get help from?
Whoever you feel most comfortable speaking to, which could be:
Your GP, in person or over the phone.
Your friends or family.
A mental health organisation online. The Mind website is a good place to start, and the charity also has a helpline.
What should you say?
While there are no wrong way to describe your feelings, some of these pointers may help communicate your situation.
Be honest and open.
Focus on how you feel, rather than what illness you suspect you may have.
Try to explain how you've been feeling over the past few months or weeks and anything that has changed.
Use words and descriptions that feel natural to you.
Try not to worry that your problem is too small or unimportant – everyone deserves help and your doctor is there to support you.
Tips for dealing with and preparing for an appointment
Write down what you want to say in advance and take your notes in with you.
Give yourself enough time to get to your appointment and if you're feeling nervous, let your doctor know.
If you've talked to your family or friends about how you feel, you might want to take someone with you to your appointment or practise what you might say to your GP.
Use anything you need to describe how you feel – highlight or print out any information you've found that helps you explain how you're feeling.
Take your time. If you have a few things to talk about, you can ask for a longer appointment when you're booking it.
Sign up for workout ideas, training advice, reviews of the latest gear and more.