How To Cope With COVID-19 Anxiety According To A NHS Psychiatrist
Plenty of people are feeling the strain of the pandemic, but you can take action to protect your mental health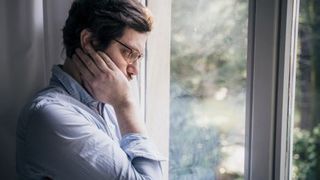 (Image credit: Unknown)
Even if you haven't experienced any major signs of anxiety during the COVID-19 pandemic, there's every chance something is bubbling away under the surface. That's why it's wise to take steps to look after your mental health.
The NHS's Every Mind Matters campaign is designed to help on that front, providing guidance on maintaining your general mental health, as well as specific advice if you are suffering from anxiety.
We spoke to NHS psychiatrist Dr Max Pemberton, who is working with the Every Mind Matters campaign, for tips on how to get started.
Have you observed that people are suffering anxiety related to the pandemic?
Since the beginning of the pandemic, I have certainly noticed that people are suffering higher levels of anxiety. In fact, a new survey commissioned by Public Health England found that a significant proportion (46%) of the population said they had been experiencing more anxiety since the pandemic began.
However, three in five (60%) of those asked did say they feel hopeful about the future and many adults (75%) reported that they are planning to take or have taken steps to look after their mental wellbeing, which is really great to see.
What are common symptoms of anxiety?
Anxiety can present itself in a number of different ways, but the key signs can include feeling tired, on edge, restless or irritable. Feeling a sense of dread, or being unable to concentrate or make decisions may also be experienced, as well as having trouble sleeping, and feeling sick, dizzy, sweaty or short of breath. These feelings can affect people's day-to-day lives and result in them avoiding situations or putting off doing things they may be worried about.
What can you do to deal with anxiety?
It's important to remember that currently, it is normal to feel anxious, worried or stressed. However, there are many things we can do to help take care of our mental health and wellbeing during these uncertain times.
Firstly, it is really important to stay connected. Maintaining healthy relationships with the people we trust is important for our mental wellbeing. Sharing your thoughts and concerns with someone can make such a difference, in a way which you might not immediately realise. Even if you aren't currently suffering from any problems, speaking openly about mental health may help others to.
It is also very important to look after your body, as our physical health has a big impact on how we feel. Try to eat healthy meals and exercise regularly.
Too much information on the pandemic can be overwhelming, so try to limit time spent watching the news or on social media. You can also help manage your worries about what is going on in the world by sticking to the facts and using trustworthy sources of information, such as the NHS website or gov.uk/coronavirus.
You can also head to the Every Mind Matters website, which has more information and advice to help you manage your mental wellbeing during the pandemic.
See related
A lot of people might be feeling overwhelmed at the general situation. Do you have advice on how to deal with that?
On the whole, the coronavirus outbreak makes us feel stressed, worried, sad or frustrated. We just need to remember that it is OK to feel like this and that these difficult feelings will pass. It is also vital to remember that there are things that we can do to take care of our mental health and these will help.
There are a number of tips that people can use to deal with feeling overwhelmed by the current situation. Try to follow a daily routine, give yourself a break and do something that makes you happy, go out for a walk in the fresh air and make sure you get enough sleep.
Again, the Every Mind Matters website has a range of other steps that you can take to help you manage feelings of anxiety or being overwhelmed.
Sign up for workout ideas, training advice, reviews of the latest gear and more.