Do Fat Burners Work?
What you should and shouldn't expect from fat-burning supplements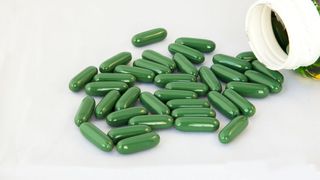 (Image credit: Unknown)
Let's get something straight: the most effective way to burn fat is with a structured exercise and nutrition plan. No-one has ever lost weight by simply guzzling a few fat-burning pills each day. We're sure you knew that already, but there's no harm in repeating the message when shortcuts are so tempting.
However, that doesn't mean that fat-burning supplements are complete hokum. After all, they're sold in pharmacies, rather than just the shadier corners of the internet, which is always a good bellwether as to whether a product has any proven merit.
For more information about fat burners and what you can expect from them, we spoke to Anshu Kaura, LloydsPharmacy pharmacist.
What are fat burners and what do they do?
Fat burners are nutritional supplements. They have been proven to increase the body's metabolism and as a result they reduce fat absorption. The body burns fat for fuel, rather than absorbing it.
Are they preventive then, rather than effective in reducing your current weight?
They can work on your current weight because they increase your metabolism, so you will burn more fat. They do a bit of both – they increase your body's metabolism and reduce fat absorption.
How effective are fat burners?
Obviously with weight management everyone is different and it's not just about using fat burners, it's also about having a healthy lifestyle – eating a healthy calorie-controlled diet and exercising.
See related
Can anyone use fat burners?
They're not suitable for everyone – it's really important before anyone buys them that they speak to a pharmacist or a healthcare professional, because there will be certain limitations on using them. For a lot of them you have to be over the age of 18. You shouldn't take them it you're pregnant or breastfeeding, and certain health conditions have drugs that interact with them. They're not something you should just buy or order off the internet without discussing it with a healthcare professional first.
Do fat burners have side effects?
Since they're affecting your stomach, you can get some stomach side effects like discomfort and flatulence. But this is just because there are changes in the way your body is absorbing the food it's eating, so it's only natural that there will be an effect on the stomach.
In terms of interaction with medications, it's about making sure that if you're blocking fat from being absorbed you don't block your medication as well. That's why it's important to check with a healthcare professional.
Can you take them for a long period?
The idea is that once you reach your target weight, you stop. There's nothing that says only take them for six months, but if you're taking them for a couple of years and they've had no effect then clearly it's not working and you should look at something else.
What are the active ingredients in fat burners?
There's no one active ingredient, they will have different proteins, salts and other components – some have caffeine in them – that have the effect of increasing the metabolism and reducing fat absorption.
Fat Burners To Buy
If you're going to buy a fat burner, it's best to get it from a trusted source like a pharmacist. Here are the top options at LloydsPharmacy.
Adios Max Herbal Slimming Tablets
The active ingredient in these tablets is fucus, a type of seaweed also known as bladderwrack. The tablets are designed to be taken three times a day at meal times to stimulate your metabolism.
Buy from LloydsPharmacy | £11.29 for 100 tablets
Protein World Fat Metaboliser
These capsules rely on caffeine to boost the metabolism, with green tea and guayana among the sources. If you have a low tolerance to caffeine, it's recommended you halve the standard dose of four capsules a day.
Buy from LloydsPharmacy | £21.99 for 90 capsules
Sign up for workout ideas, training advice, reviews of the latest gear and more.