Meet The Ube: The Purple Yam That's All Over Instagram
You may have seen the violet vegetable in your feed, but is it as healthy as it is pretty?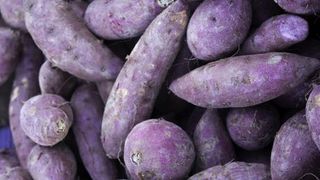 (Image credit: Unknown)
Food photos are the bedrock upon which Instagram's formidable success is built, even more important to the service than holiday hotdog legs, sunsets and cat photos. The enduring popularity of food pics keeps people gramming every breakfast, lunch, dinner and dessert – especially desserts.
As a result it's no surprise that food trends can spread easily on Instagram, especially given the legion of healthy-eating superstars on the platform, and the current social-media superstar is the ube.
This is thanks, in part, to its incredible purple hue. Think of the most purple thing you can. TRIPLE IT. That's how purple the ube is, and that's why it's often used as a natural colouring for sweets.
Aside from all the purple, we knew almost nothing about the ube (except that it's nothing to do with any popular app-based car services, and it's pronounced "oo-bay"), so we asked registered dietitian Michelle McGuinness, spokesperson for the British Dietetic Association, to fill us in. We started with the basics: what the hell is an ube?
"The ube is also known as purple yam and it's commonly eaten in the Philippines. Yams are starchy vegetables which sit within the same family as potatoes, sweet potatoes and other tuber vegetables.
"The taste is often described as a sweet vanilla flavour, which has encouraged its use in dessert and sweet foods. In the Philippines it is traditionally cooked with milk and sugar and eaten as a sweetened dessert called halayang ube. Ube can also be found in the form of flour or as a jam."
A sweet tuber vegetable that tastes like vanilla sounds good, and there's more good news to be found in the nutritional make-up of the ube.
"The research and data around the specific nutritional benefits of ube are limited," says McGuinness. "However, its nutritional profile has been likened to that of an ordinary yam, with a reasonable fibre count, and low natural sugar and fat content."
RECOMMENDED: Fill Up On High-Fibre Foods
That purple colour doesn't just make it a brilliant fit for Instagram either – it's an indicator of another healthy aspect of the ube.
"As with all vegetables the colour is generally an indicator of specific nutritional benefit. Purple foods are generally nutritious and high in vitamin C and antioxidants that keep our heart healthy and can help protect against cancer," says McGuinness.
"The anthocyanin content is what contributes to the purple colour. Anthocyanins are thought to support healthy blood pressure and to play an important role in helping to reduce the risk of cardiovascular disease and, possibly, cognitive decline and cancer."
However, that doesn't mean making your dessert purple by slapping a bit of ube in will mean it contains all these nutritional benefits, as McGuinness explains. "As with any fruit or vegetable the nutritional benefits are determined by how they are consumed. Where ube as a wholefood is a nutritious choice, when it's combined with fats and sugars commonly found in desserts and sweet foods, the benefits can be diluted. Consume ube baked, boiled or mashed to maximise the nutritional value without unnecessary calories."
So the ube sounds great if you cook it the right way, but unless you're reading this in the Philippines, it's not the easiest vegetable to get hold of. Fortunately you can capture the same nutritional benefits with more common fare.
"The nutritional benefits of ube as a wholefood can be easily achieved by eating a combination of vegetables that can be more readily accessed in the UK," says McGuinness. "Sweet potato is similar in that it's a low-calorie potato with a reasonable amount of fibre, although the natural sugar content may be higher.
"For antioxidants, many foods of a similar hue such as red cabbage, aubergines, purple sprouting broccoli, beetroot and blackberries are all high in vitamin C and antioxidants. They are also high in fibre, which means they support good digestion and bowel health."
RECOMMENDED: Superfood Alternatives
Sign up for workout ideas, training advice, reviews of the latest gear and more.