The Foods Personal Trainers Always Have In Their Kitchens
Raid the cupboards and fridges of these 18 super-fit specimens and get some serious shopping list inspiration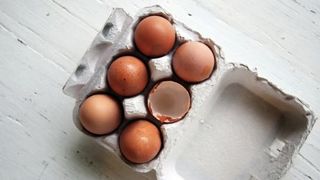 (Image credit: unknown)
Bag for life? Check. Credit card? Check. The absolute certainty that you'll get your Big Shop home and will somehow still find barren cupboards and fridge shelves? Check, check and check.
Yep, doing the Big Shop is often followed with the Big Strop. The Big Strop of knowing that those two hours you just spent in the supermarket were a complete (and expensive) waste of time, as you've somehow got nothing to show for your efforts. Nothing for dinner. Nothing to refuel after your workout. And no idea how it happened.
It's about time we put an end to it.
We've taken a look inside the kitchens of 18 personal trainers to get some big shopping list inspiration from the items they've always got inside their fridges and cupboards. From eggs (loads of them, obviously) to quinoa, from chocolate to peanut butter, they've got everything covered – be it a quick and healthy pick-me-up or a huge breakfast cook-out. So grab a pen, take some notes and make the next Big Shop anything but a Big Waste Of Time.
Ben Davie, Lead Matrix Trainer At Digme
"Porridge oats. Nine times out of ten, oats, vanilla whey protein and a chopped banana will be my breakfast. I always prep the night before so it's ready for my bag! I also always have eggs, which are perfect for a quick meal, and greens like spinach or broccoli. My daily goal is to have some vegetables in two out of three of my meals every day. Another staple is Greek yogurt… and to be honest I am partial to a custard cream!"
Tom Forster, Personal Trainer And Co-Founder Of Plant-Based Protein Brand FIT DELIS
"Good-quality oats, protein powder and peanut butter, so if I'm in a rush I've got a high-quality snack option that covers all three macronutrients."
Melissa Weldon, Head Of Training At Sweat It London
"My fridge is always well stocked with everything you would expect a trainer to have: meat, eggs, fruit and veg. But I also always have some Monty Bojangles Scofflets chocolate truffles on hand for a little nibble!"
Kaya Cansfield, Psycle London Ride Instructor
"I'm always stocked up with sea salt hummus chips and sweet almond Propercorn popcorn for snacking. If you didn't know, now you do. Thank me later!"
"Grenade bars, because they are delicious, high in protein and low in sugar, keep you going and taste just like a chocolate bar. My personal favourite is the white chocolate cookie. It tastes just like Hershey's Cookies 'N' Creme!"
Gary Logan, Head Boxing Coach At BXR London
"I've recently gone vegan, and quinoa provides me with a much-needed protein source. It's also an excellent source of fibre, iron, copper, thiamine, phosphorus, potassium, zinc and magnesium. I like to combine it with organic kidney beans, black beans or haricot beans to up the protein even more."
"Eggs. Always eggs. My day starts with protein, and eggs are an easy and tasty way to make sure of it. I usually poach them."
See related
Tee Von Zitzewitz, Trainer At Barry's Bootcamp London
"If I need a sweet hit, I'll dip a spoon into peanut butter. It's so hard to stop at just one, though. Honey's always there, too."
Sandy Macaskill, Co-Owner And Trainer At Barry's Bootcamp London
"I always have lemons about. I use them in my go-to baked salmon dish, in every salad dressing – and in my G&Ts too."
Mark Crowhurst, Spin And T3 instructor At TRAINFITNESS
"I love how Greek yogurt can go from being super-healthy to almost devilish thanks to its versatility – I'll use it in everything from a smoothie to a home-made curry sauce. It's a morning staple for me and a go-to dessert – just add fresh berries and passion fruit."
"Chocolate! Not just any chocolate though – it has to be more than 80% cocoa and free of soy lecithin. I'm currently loving Blanxart 82% Congo. You get a great chocolate taste that's not overly sweet and that high cocoa percentage generally means it's lower in carbs."
RECOMMENDED: Is Dark Chocolate Good For You?
Dan Lambert, Maximuscle Personal Trainer
"Stacks and stacks of free-range eggs, preferably from my friend's chickens or from a local farm. They're packed with protein and healthy fats, and are so versatile. I never ditch the yolk when I cook with them. Research has proven that dietary cholesterol has little effect on our bodies' cholesterol levels. However, if high cholesterol runs in your family, maybe limit it to two yolks a day."
Ollie Marchon, Ex-England Rugby 7s Player And Maximuscle Strength Coach
"I'm always stocked up on fresh fruit and veg. They're essential for adding volume to every meal without adding too many extra calories. If I'm not feeling satisfied after dinner, I'm reaching for my supply."
Jamie Lloyd, Strength And Conditioning Coach, Jamie Lloyd Coaching
"I can't go without coconut oil. It tastes great in so much, from a stir-fry to smoothies to scrambled eggs. I always buy two pots of it at a time, and might even use it to massage my clients with!"
Luke Chamberlain, Personal Trainer At Fitness First
"You'll always find organic peanut butter in my cupboards and apples chilling in my fridge. The two together are a great pick-me-up when I'm low on energy. Chilling the apples is essential – cold apple with gooey peanut butter is a delightful experience."
Daniel Puddick, Personal Trainer And Founder Of Sundried Activewear
"Probably butter. I love bread and always get fresh granary and sourdough from my local bakery. Real butter is far better for you than margarine, no matter what you read – plus it just tastes so much better! Eating a hunk of fresh bread with lashings of butter is probably one of my biggest pleasures when it comes to food… it's just so good."
Olu Adepitan, Fitness Manager At BXR London
"Eggs are rich in protein and great for building muscle. I love them for their versatility. A couple of boiled eggs makes a great low-carb and high-protein snack, but you're only ever a few ingredients away from a full meal. You can make my personal favourite, a Spanish omelette, by adding potatoes, onions and bell peppers, and serve with a three-bean salad."
Simon Cowen, Personal Trainer At Fitness First
"Oh, I can't lie – it's chocolate. I don't eat it every day, but I do like opening the fridge and seeing it smiling back at me."
Joe Spraggan, Head Trainer At F45 Farringdon
"Broccoli, kale, avocado and spinach – my breakfast smoothie. I find it keeps me far fuller than oat- and fruit-based shakes do. Add some fruit for flavour if you need to, but I prefer to reduce my insulin spike first thing in the morning."
Rod Buchanan, Co-Head Of Barre At Psycle London
"You'll always find eggs, avocado and almond butter in my kitchen. Omelettes are so easy, avocado always works with eggs, and a spoonful of almond butter is a great quick fix."
Leo Savage, Trainer At Third Space
"Most definitely Uncle Ben's Two-Minute Basmati Rice. I always have at least four packets in my kitchen. It's a perfect base for a meal. Then all I need to focus on is preparing a great stew, or putting together some mince or chicken to add to it. It makes a nice hearty meal with good portions of carbs and protein."
Sign up for workout ideas, training advice, reviews of the latest gear and more.