Almost Fat-Free Chicken Curry
One serving of this chicken and spinach curry contains only 302 calories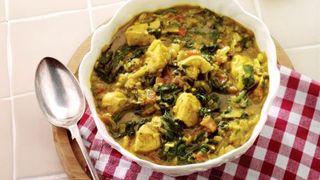 (Image credit: Unknown)
This chicken curry recipe provided by food scientist Kumud Gandhi at The Saffron House's Cooking Academy is high in protein and low in fat, with plenty of flavour from the aromatic spices. If you batch cook it and freeze half, your future self will be grateful for your organisational skills as you tuck in to a healthy home-made curry with zero effort required.
This meal works perfectly as part of a Coach's weight loss meal plan for women or a weight loss diet plan for men – just swap it for a meal of similar calorific value.
Almost Fat-Free Chicken Curry Recipe
302 calories
Ingredients (Serves Eight)
1kg chicken breast chopped
20ml vegetable oil
2 whole dried red chillies
4 cloves
1tbsp lemon juice
3 black cardamom pods
2 large cinnamon sticks
2 bay leaves
400g onions finely chopped
20g fresh garlic chopped
20g fresh ginger chopped
1tsp hot chilli powder
½tsp turmeric 1tsp salt, or enough to taste
200g chopped tomatoes
20g fresh coriander
For the spinach:
500g baby spinach
10ml vegetable oil
3g turmeric
10g garlic
Method
Heat the oil in a deep wide-based pan and add the whole red chillies, cloves, cardamom, bay leaves and cinnamon sticks until they sizzle. Add the onions and fry until soft and light brown. Add the garlic and ginger, stir for a minute, then the chicken, and sauté until sealed. Add the chilli powder, salt, turmeric and 10g of the fresh coriander. Sauté for a few more minutes before adding the tomatoes. Stir and cook for a minute. Add 100ml water and the lemon juice, then bring to the boil. Reduce heat and simmer gently for 15 minutes or until the chicken is cooked.
For the spinach, heat the oil, add the garlic and sauté until brown. Add the turmeric and mix for 30 seconds, then add the spinach. Cook until the spinach wilts and stir into the chicken, letting the flavours blend for 3 minutes. Serve garnished with fresh coriander.
Nutrition
We used the calculator on Myfitnesspal, one of the best weight-loss apps for calorie counting, to estimate the nutritional values of this chicken curry. Each serving contains 302 calories, 40g protein, 11g carbs, 11g fat, and 3g fibre.
This recipe was provided by food scientist Kumud Gandhi. You can take one of her cookery classes at The Saffron House's Cooking Academy (opens in new tab).
---
More About Nutrition
Sign up for workout ideas, training advice, reviews of the latest gear and more.
Lucy Miller is an experienced journalist who has worked across a range of health and fitness titles. She was the fitness and nutrition editor at Men's Fitness UK, and has also been fitness editor of both Health & Fitness UK and Women's Fitness UK. Lucy qualified as a NASM-certified personal trainer and nutritionist in 2008.