Pumpkin-Based Smoothies
Pumpkins aren't just for Hallowe'en, they're also great for tasty smoothies at any time of year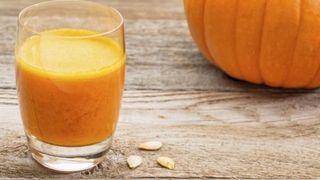 (Image credit: unknown)
As well as being low-calorie, raw pumpkin is rich in fibre and antioxidants, and very high in vitamin A. Harness all the nutritional benefits of this often-overlooked vegetable by putting it in a tasty smoothie. You can swap it with a meal of a similar calorie count if you're following a weight loss diet plan for men or a weight loss meal plan for women. For more delicious liquid meals head over to our best smoothie recipes.
We entered the ingredients of each smoothie into Myfitnesspal, one of the best weight-loss apps for calorie counting, to get approximate nutritional quantities for these recipes so you can hit your macro goals. Note that one 150ml serving of any smoothie counts as just one of your five-a-day, according to the NHS guidelines.
Banana And Pumpkin Smoothie Recipe
528 calories
Rich and creamy thanks to the yoghurt, with a pumpkin pie flavour from the pumpkin and spices sweetened with agave and orange juice, this satisfying smoothie is a meal in itself. With a hefty calorie count, this smoothie is one to have when you've been particularly active. Pop all the ingredients in a blender and whizz until smooth. Garnish with a sprinkling of cinnamon.
Ingredients (Serves One)
250 ml organic yogurt
150g chopped raw pumpkin (from chilled)
Ice cubes
300ml fresh orange juice
1 tbsp agave
1 tsp ground cinnamon
Pinch of ground nutmeg
Dash of ground cloves
1 ripe banana, sliced and frozen
Nutrition
This smoothie comes in at 528 calories calories per serving. It provides around 111g of carbs, 20g of protein, 6g of fibre and 4g of fat.
Pumpkin And Green Apple Smoothie With Cinnamon Recipe
349 calories
This filling smoothie balances the earthy sweetness of cinnamon-spiked pumpkin with the fresh, zingy flavours of green apple and spinach leaves.
Ingredients (Serves One)
250g pumpkin chopped and peeled
1 green apple, cored
1 banana, peeled
Dash of cinnamon (to taste)
2 small handfuls of fresh baby spinach (optional, but recommended)
250ml of fresh water or coconut water
Nutrition
This smoothie provides approximately 349 calories, with the breakdown of macros at roughly 80g of carbs, 15g of fibre, 9g of protein and 2g of fat.
---
More About Healthy Eating
Sign up for workout ideas, training advice, reviews of the latest gear and more.