Trying Out Odlo's Spring-Summer Running Gear
We joined the Odlo Run Club intervals session to road test their new running kit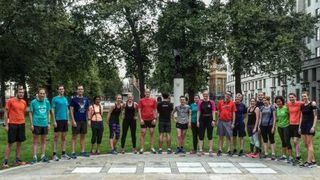 (Image credit: PR )
If you're keen on the idea of running socially, but aren't quite ready to commit to joining a full club just yet, the various free groups set up by brands and shops in the centre of London can be a great place to start as they're generally aimed at beginners and offer a convenient starting point for post-work exercise.
Although sports brand Odlo's Run Club is coming to the end of their 2016 summer season, we took the opportunity to join a session and put Odlo's latest spring-summer running gear and the latest lightweight trainer from Pearl Izumi through their paces.
Rather than a series of similar, talking-pace jogs around the city, the Odlo sessions are varied and designed to improve your knowledge over the 12 weeks. We joined session ten, running intervals in front of the Ministry of Defence. After a slow warm-up jog down from Covent Garden, we were put through our paces with a set of intervals at 5km and 10km pace:
3 x 1min at 5km pace
2 x 3mins at 10km pace
3 x 1min at 5km pace
1 x 2mins at 10km pace
Although it only adds up to 14 minutes of real effort, it was easily as knackering as 30 minutes of normal jogging. We expect our 5K and 10K performances to improve after the session, but how did the kit perform?
---
A refreshingly loose running shirt, breaking away from the trend towards ever tighter tops, the Crio was great for an intense summer session. The relaxed fit lets air circulate to keep you cool.
---
Lightweight, comfortable, and with reflective strips on the side, these shorts cover all the bases you could want on a summer run.
---
Odlo EVOLUTION X-LIGHT Baselayer Shirt
We had some reservations about popping on an extra shirt on a muggy evening, but the extra-light version of Odlo's sports baselayer turned out to be ideal for the intervals session, wicking away sweat to keep us dry and comfortable.
---
Odlo EVOLUTION X-LIGHT Boxers
There were no reservations about putting on these boxers; we wear these no matter the weather, and the Odlo extra-light underwear were just the ticket to keep the nethers comfortable during an intense run.
---
Pearl Izumi Em Road N 0 v2
These feather-light shoes are designed for running at race pace, so excelled in the Odlo Run Club intervals session. Simply put, if you can't go fast in these, you aren't going to go fast full stop. However, the trade-off for this pace and feel for the road is reduced cushioning, so they're not ideal for long Sunday plods at half-speed. Save them for Fartlek.
Sign up for workout ideas, training advice, reviews of the latest gear and more.