The Last Word In Running Comfort – Gear Made Out Of Bamboo
Trust us, we tried BAM Clothing's running gear and loved it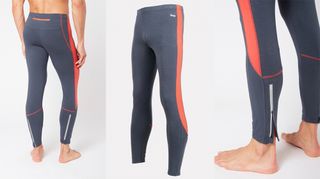 (Image credit: BAM)
Running gear made out of bamboo. It's an outlandish sell, but once you look into the beneficial properties of a panda's favourite breakfast, lunch and dinner, it makes perfect sense.
Bamboo fabric is incredibly soft and naturally avoids smelling too much as bacteria don't enjoy living in it. Furthermore, it regulates heat well due to its hollow microfibres, so it'll keep you warm while also being breathable enough to avoid getting too sweaty.
Clothes made from bamboo also wick sweat away from the skin like synthetic training gear and can be made sustainably, as bamboo grows very quickly without the need for pesticides or much water.
All in all, bamboo fabric should be just about perfect for runners, but you can't be sure of anything until you put it to the test, so we did, trying out three pieces of BAM Clothing's running gear.
Bamboo Contrast Stitch Baselayer
A supremely snug baselayer for the frostiest of winter days, but can also be worn by itself when the weather is a little warmer. It ticks all the boxes, keeping you warm and dry while also being breathable enough to not overheat.
The key feature, however, is undoubtedly how comfortable it is to wear. It's easier to face even the longest winter runs when you're pulling this on beforehand. £38, buy on bambooclothing.co.uk
Bamboo Training Leggings
Designed to keep you warm when it's cold and cold when it's hot, these leggings have four-way stretch properties. We're not sure what that is, but it makes for a very comfortable pair of leggings and ensures there are no restrictions to your movement as you run.
These were ideal for early-morning winter runs when it's tough to imagine ever being warm once you're outside, but we found they were a fraction too warm for milder afternoon and evening runs. As a side note, the reflective strips on the ankle hem zips are a nice touch for nighttime visibility. £38, buy on bambooclothing.co.uk
Bamboo Trainer Socks
Good socks are a perennially underrated part of a sporting wardrobe, as the right pair can make running far more comfortable and less likely to result in blisters. These are excellent socks, padded in all the right areas to ensure a pleasant ride, with a handy lip on the back cuff of the sock that stops it slipping down. £15 for three, buy on bambooclothing.co.uk
RECOMMENDED: 21 Tips To Help You Become A Better Runner
Sign up for workout ideas, training advice, reviews of the latest gear and more.