Tobias Mews's Favourite Races Around the World
Including a killer New Year's Day event in London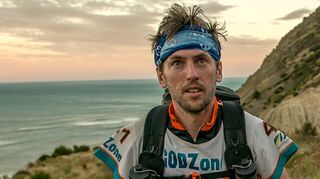 (Image credit: Unknown)
Over the past decade, former Army captain Tobias Mews has completed around 200 races all over the world, and has amassed a perhaps unparalleled insight into the great races on offer. He's picked out the best of them for his new book, 50 Races To Run Before You Die. As well as some of the toughest events around, the book highlights 17 races to consider as a first step, meaning there's some inspiration for everyone.
How should a beginner pick their first major race?
Some people who I've met who do the Marathon des Sables [six-day sadistic Saharan slog, pictured below] say they've never done a race before. They hear about it and think "that's it, I'm going to do that". No experience, and they train for it and complete it. You can go from zero to hero. But on the whole, the best way is to build up a plan. Choose a race that's exciting. It might be abroad, somewhere rather lovely you'd like to go to. And then use a series of small races local to you as build up to that. If you're new to running then start small, like a Parkrun (opens in new tab). It's all about building up confidence.
RECOMMENDED: The World's Greatest Adventure Challenges
Do you have a favourite moment from the races you've done?
Comrades is the one that really sticks out. It's the largest ultramarathon in the world, and the oldest. It takes place in South Africa and around 20,000 runners gather together, of all creeds, backgrounds, races. In a country so divided by race, suddenly it becomes united. They sing this miner's song and then they sing the national anthem, and you look around and there's a real feeling of… "wow!" It's incredible.
Is there one race you keep going back to?
I've done the London marathon six times. That's a race I love doing. A second option would be Hellrunner. I've done that five times in a row. It's a mud run down in Hampshire that involves going through things called the bogs of doom, and the hills of hell.
My general motto is that life's too short to race the same race twice. There are so many races out there. It's like having chicken korma every time you go to an Indian restaurant. You should really break away from what you know.
RECOMMENDED: The 30 Greatest Outdoor Challenges For Men
What's the toughest race you've done?
The one that I struggled the most in is Godzone [pictured below], an adventure race in New Zealand. It's 530km long, nonstop, and we raced for 134 hours. It really is a proper adventure – you're canoeing down rivers for 100km, sea-kayaking alongside dolphins, climbing mountains, trekking through river gorges. The route is what you choose to make it. It's proper wilderness. I got immersion foot in the first 24 hours – footrot basically, like trenchfoot. It's very sore, like having cuts on your foot and stepping on them constantly. Every single footstep hurts. That's the toughest race I've ever done, where I've mentally been in a very bad place.
What's your favourite race near London?
The Knacker Cracker [pictured below]. I've done it three times. It's on New Year's Day and it's a 10km, almost a fell race, around Box Hill. You do about 500m of ascent in 10km, which is quite a lot, and bear in mind you've probably got a hangover. It's a fabulous race, the best-kept secret in London racing.
RECOMMENDED: UK Fitness Challenges
50 Races To Run Before You Die is published by Aurum Press, £16.99. Buy on Amazon (opens in new tab).
Sign up for workout ideas, training advice, reviews of the latest gear and more.