Lace Up for Running Tours of London
Study the capital's past with Secret London Runs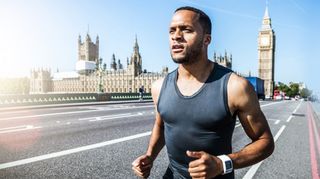 (Image credit: Unknown)
Running while learning history might be many people's idea of a nightmare, but when you think about it, it's a combination that makes a lot of sense. The frustrations of walking tours – slow pace, your tour mates constantly stopping to embarrass themselves with a selfie stick – are removed, as is the monotony of running, which is broken up by regular stops at spots of historical interest.
Desperate to learn more about the murky past of Britain's monarchy, Coach tried out Secret London Run's Riches, Royals & Rumours tour. The route is designed to cover both the big stuff – like Buckingham Palace's history – and the small, such as the headless ghost of the Cockpit Steps.
Even if you forget half the dates and kings involved, you'll come away with a slew of interesting tidbits about London to bore friends and family with, including Britain's smallest police station in the corner of Trafalgar Square, and a Nazi dog grave just off Pall Mall.
You set the pace and there are regular stops at landmarks, so you're never too out of breath to take in what you're being taught. Exercise and learning, it's a win on all self-improvement counts, and tremendously enjoyable to boot.
RECOMMENDED: The Best Men's Running Gear
Secret London Runs Tours
There are a variety of tours and events on offer at Secret London Runs, each of which can be arranged at a time and running pace to suit your group.
Riches, Royals and Rumours
Starting from Trafalgar Square, this 7km tour takes you around the heart of the capital, revealing the history of landmarks such as Big Ben and Buckingham Palace.
In The Shadow of the Shard
The area south of the City was once the home of many activities the capital deemed it prudent to keep its wealthier areas free of, such as prostitution, prisons and the leather industry. Learn all about it, while running 7km.
London's Power Women
The women who have shaped London's history take centre stage on this 9km tour, which takes in around 12 points of interest and fittingly starts at the statue of Florence Nightingale, the founder of modern nursing, in Waterloo Place.
Secret London Runs Events
As well as the running tours, Secret London Runs put on events, where your wits will be tested just as much as your fitness. Their Murder Mystery run involves tracking down a Tudor-era murderer, while similar skills are needed to locate escaped inmates in the Prison Break run. And if you want almost no information at all about your run beforehand, the cryptic 10km Secret Mission involves solving a puzzle from London's past.
Tours: £40 to run solo, £25pp for two, £19pp for three, £16pp for four. Events: £6-£25. secretlondonruns.com
Sign up for workout ideas, training advice, reviews of the latest gear and more.