Pilates Stretches For Runners
Use these pilates stretches and exercises to run further, faster niggle-free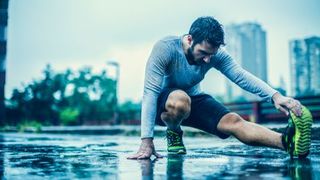 (Image credit: Unknown)
When people set about attempting to improve their running, they tend to focus exclusively on the strategy of doing more running. They might mix it up in terms of speed and distance, but the tactic is clear: running will help you run better.
But what if Coach told you that there is another way, one that will make you run faster and for lonager? As Lynne Robinson, founder of Body Control Pilates, explains: "Pilates can improve your posture while you run, your overall stamina and your core stability, balance and flexibility." Here are four exercises Lynne suggests trying pre- or post-run.
RECOMMENDED: How to Avoid Sports Injuries
Spine Curls
Lie on your back with your knees bent. Have your arms by your sides. Breathe in.
Curl your tailbone under, tilting your pelvis backwards as you peel your spine off the mat one vertebra at a time, lengthening your knees away from your hips.
Breathe out as you roll the spine back down. Repeat 10 times.
Oyster
Lie straight on your side with your bottom arm under your head and your top hand on the mat in front of you. Bend your knees and draw your feet back.
Breathe out as you open out your top knee from the hip joint. Keep your pelvis stable.
Breathe in as you slowly return your leg to the starting position. Repeat 10 times.
Pilates Squat
Stand tall. Feet hip-width apart and parallel.
Breathe in and lengthen through the spine as you bend the knees and the hips simultaneously to hinge forwards slightly from the hips. Reach forward with both arms to balance.
Breathe out as you straighten your legs. Repeat 10 times.
Prone Knee Lifts
Lie on your front and rest your forehead on a folded towel.
Bend your right leg to a 90-degree angle. Maintaining the position and stability of your pelvis, breathe in and lift the leg up slightly off the mat.
Breathing out, lower the leg back down. Repeat 10 times on each side.
For more information on Pilates or to try a session, head to bodycontrolpilates.com
Sign up for workout ideas, training advice, reviews of the latest gear and more.